Deep Guided Meditation & Chakra Balancing!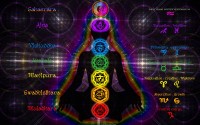 Join me for this amazing group session that will allow you to dip into stillness and balance all of your Chakras!
I will start the group off with deeply healing and cleansing breathing techniques for the seven main chakras.
Crystal singing bowl healing
You will be lead through the Cosmic Breath to connect more deeply with self as well as the connectedness to all things.
Guests will then experience a colorful and deeply relaxing voice guided visual journey through the Chakras for deep cleansing, healing,  balance, and activation!
Even better? This class takes right before the New Moon and partial eclipse!!! Talk about amazing energy!
***PLEASE refrain from wearing perfumes, heavily applied essential oils, and scented lotions! Myself and many others are highly sensitive and/or allergic. Thank you kindly!
When
Saturday, January 05, 2019
1:00pm – 2:15pm