Shamanic Chakra Balancing!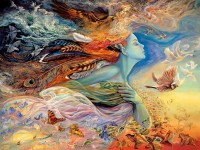 Join me for this amazing Shamanic group session that will allow you to dip into stillness and journey through your senses to balance all of your Chakras! 
Why is called Shamanic Chakra Balancing?
This group sessions are infused with many of the Native American Inspired healing techniques that I also use in my private sessions! To lead guests through the release of heavy sludge-like energy or "static" from the 7 main Chakras, I incorporate the elements of  Earth, Air, Fire, Water, and Spirit to weave their way through this group healing as well as Ma'Heo'o Reiki (Shamanic form of Reiki), and Sound Healing. This Shamanic way of Chakra Balancing is very deep but also extremely uplifting!
What to expect:
This group session will begin by opening Sacred Space, calling in the Four Directions, Earth and Spirit. This creates a stable, safe, and high vibrational environment in which we all can be nourished and be deeply connected to our own energy. This is also the meditative place outside of "time" where all possibility exists.
I will start the group off with deeply healing and cleansing and clearing techniques through the breath while also helping guests to connect more deeply to each element.
Guests will be learn the the Cosmic Breath to connect more deeply with self as well as the connectedness to all things.
Smudging with Palo Santo, Lavender, and Red Cedar for the group will take place to clear out any stuck energy or static
Shamanic drumming, Rattle, and Crystal singing bowls to cleanse and balance energy as a whole
Guests will then experience being guided through each chakra with hand placements and the breath to bring even deeper healing to each energy center.
At the end of the session, I will close then close Sacred Space with thanks and gratitude, releasing the directions and all of the spirit guides that were here to help us.
I look so forward to sharing this beautiful group session with you!
I limit my group sessions to 9 people to ensure the best experience for all guests! Please be courteous and arrive on time. We will start promptly at 1:05pm!
***PLEASE refrain from wearing perfumes, heavily applied essential oils, and scented lotions! Myself and many others are highly sensitive and/or allergic. Thank you kindly!
$25 per person
When
Saturday, October 19, 2019
10/19/19 1:00pm – 10/19/19 2:15pm