Gentle Mindful Flow Yoga!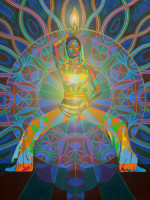 Join Om2Ohm's fabulous guest Yoga Instructor Holly Booth and Master Meditation Instructor Sheri Rathburn for this beautiful Yoga and breath work class!
This class involves postures and movements done with a meditative awareness. We will be paying attention to our experience in the present moment with an open heart and accepting attitude.
Feel yourself melt into presence, peace, and your highest vibration with slow and gentle movements and postures that are accessible to everyone and all levels of experience!
Align and activate your personal power through mindful breathing, a relaxing and empowering series of postures and movements, meditation, and a profoundly blissful Savasana with waves of crystal bowl sound healing!
Fee: $15 per person 
Walk-ins are welcome but reserving your spot in advance is highly recommended!
Some mats will be provided but please bring one if you own one! : )
When
Sunday, February 04, 2018
12:00pm – 1:00pm