Transform Your Vibe ~ Transform Your Life!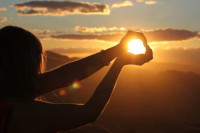 This amazing series of sessions will guide you through a deep transformational experience that will not only change your life in every way, but will empower you to maintain the new higher vibe you!
With the fusion of  Meditation, Reiki, Sound Healing, Mindfulness, and Intuitive Guidance you will:
Calm the mind and the body
Release stuck energy
Heal from old relationships
Detox emotions
Banish negative thinking
Activate your highest personal vibration
Merge with your highest self and your true purpose
Why is this so transformational?
 Each 60 minute session can have a specific focus or combined areas of focus: 
Intuitive Counsel & Guidance
Cleansing & Clearing energy work
 Personalized Meditation Instruction
Reiki and Sound Healing
DNA Activation
Mindfulness Coaching
Learn to connect with your Spirit Guides
Cutting the cords of emotional attachments
Package Fees:
Individual session $85
3 session package: $225 (save $10 per hour)
6 session package $420 (save $15 per hour)
8 session package $520 (save $20 per hour)
All sessions are 60 minutes long. You may of course schedule to have a longer session in advance or add on to your session if my schedule allows at the time to incorporate more guidance and services. Your remaining package credit available will be adjusted at the end of each session with me. 
Packages must be paid for in full to receive the package rate.
Packages may not be shared with other individuals.
 If you would like to share these wonderful services with friends or family, you will receive a 20% discount on sessions and packages with your own package purchase!