Transform Your Vibe ~ Transform Your Life!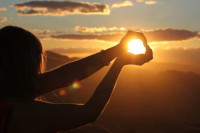 This amazing series of sessions will guide you through a deep transformational experience that will change your life in every way! 
With the fusion of guided breathing techniques , guided imagery, music, sound healing, Reiki, and Intuitive Guidance you will:
Calm the mind and the body
Release stuck energy
Detox emotions
Banish negative thinking
Activate your highest personal vibration
Why is this so transformational?
 Each 60-90 minute session will have a specific focus: 
Emotional Detox
DNA Activation
Self Love & Appreciation
Chakra Balancing
Authentic Voice  (Throat Chakra Activation)
Spirit Guide Connection
Radical Self Love Lessons
Deep release of old thought patterns
Package Fees:
Individual session $85
3 session package: $225
6 session package $475
8 session package $645
10 session Complete Transformation package  $795