Meditation Level 1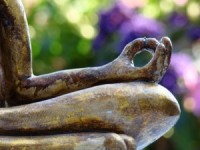 New to Meditation?
This Introduction to Meditation Workshop is the perfect way to begin (or reawaken) your meditation practice!
In this workshop led by Sheri rathburn, we will start to explore the practice of meditation in an interactive and experiential way. The focus of the workshop will be on self-discovery through meditation itself, along with plenty of time for questions and clarification.
During this experience I will teach students many mindfulness based techniques to quiet the mind, overcome the "flight or flight" response, and begin a regular and very do-able meditation practice on your own!
"No matter which path you follow for meditation, the first and foremost task is to try to make the mind calm and quiet. If the mind is constantly roaming, if it is all the time a victim of merciless and fragmented thoughts, then you may be continuously be a slave to stress and "stuckness". The mind has to be made calm and quiet so that when stillness finds you, you can be fully conscious of it. In your conscious observation and conscious acceptance of the present monet, you will enter into a profound meditation and see the purification, transformation and clarity that you are looking for!"
– Sheri Rathburn
Meditation is our attempt to discover our inner self, a place beyond the usual workings of the intellectual mind. When we experience real meditation we become aware of the infinite within and our own unexpected wealth of divine qualities like peace and inner joy.
Many people may have had glimpses of meditation unconsciously. For example, while walking through nature and being awed by its beauty. Others may have been moved by peaceful etheric music. At these moments our mind becomes still and we feel a sense that there is something greater beyond our usual perception. As mysteriously as those moments arrived, such experiences may leave, giving only a fleeting glimpse of a feeling that is hard to describe.
Meditation is an attempt to make such experiences permanent and also deepen and expand our own consciousness.
Why think about this meditation course?
People may take up meditation for a variety of reasons which could just be curiosity, a desire for more relaxation, peace of mind, or help in sleeping. Others may take to meditation from a feeling of disenchantment with the outer life. If practiced with sincerity and regularity, meditation can give us relaxation and peace of mind but it can also offer more than we ever expected. Through meditation we can expedite our soul's inner journey and we can become more aware of our own spiritual dimension.
To begin meditation I teach the art of concentration. Here concentration is different to mental concentration. Concentration for meditation means the ability to be aware of only one thing at a time. We need to keep the mind one pointed and focused only on our meditation exercise. If you try sitting still for 5 minutes and observe your own thoughts you will realize how difficult this is at first. However, as a Master Mindfulness Meditation Teacher, I teach the art of meditation with a variety of techniques to help control the mind. If practiced these can change the inherent tendency of the mind to wander and you will be able to enter into silent meditation with more ease and clarity while also exciting what is called the "Relaxation Response".
Even if this is the only meditation class that you take, it will change your life for the better! 
Students will:
Learn the purpose of meditation: what meditation is and what it is not
Learn to address distractions in a positive way
Breathe through the entire body ~ using the bodies' energy to harness relaxation & release emotional toxins
Learn very simple yet profound Mindfulness breathing techniques
Learn different styles of meditation & how to find the one right for you
Learn how to establish a daily meditation practice at home, including how to create a sacred space, the best time and how long to practice, & the framework of a practice
Receive a certificate of completion for this Om2Ohm Meditation Level I class!
Be approved to move on to Meditation Level II ~ "Diving Deeper Into Self"
Duration of private 1 to one workshop session: 2.5 hours / Fee: $125