Meditation Level II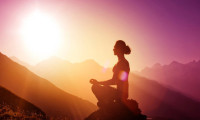 Meditation Level II ~ Diving Deeper Into Self
Take meditation deeper!
Topics will include:
Deepen your understanding of how everything that makes up "you" is energy & what that means to your meditation practice
Managing your energy through the breath
Being fully present
Letting go of what isn't serving you
 Techniques to expand your lung capacity AND your mind!
Learn techniques with which you will increase the duration and depth of your practice.
Develop your ability to focus mindfully and without resistance
What is your posture telling you and why that is important
This is Level 2 in a series of three courses designed to guide those who wish to deepen and maintain their current meditation practice and learn a proven path to skillfull meditation. This class is also suitable for those who would like to teach these techniques to their own clients and/or students. A certificate of completion is provided for all students.
Meditation Level 2 is suitable for:
Completed Meditation Level I at Om2Ohm
Those who have established a regular practice.
Ideally students can maintain comfort and stillness in a seated position for a minimum of 20 minutes
Are experienced in shifting their awareness from the external environment to the internal environment
Have knowledge and experience of witnessing their thoughts.
The next date for this workshop will be September 10th from 10:00am until 12:30pm