Crystal & Sound Healing Sessions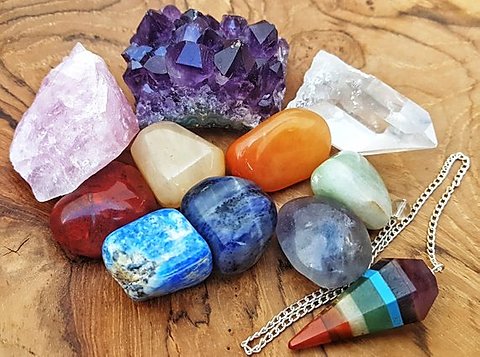 WHAT IS CRYSTAL HEALING?
Crystal healing is a holistic, non-invasive, vibrational energy-based system of healing. That is, it treats the whole person and their integrated energy system.It is therapeutic and deeply relaxing.
Crystals can be used for just about anything and their unique healing energies are as individual as we are! There is a crystal and mineral for every illness or dis-ease known to mankind; we just need to heighten our awareness and frequency to that of the crystal so that we can tap into the energies and benefit from what their metaphysical properties have to offer.
Crystals absorb, focus, direct, detoxify, shift and diffuse energy as they interact with the electromagnetic forces and subtle vibrations within the subtle human or environmental energy field.In the context of crystal healing, illness is a dis-ease, the final manifestation of spiritual, environmental, physiological, psychological, emotional, mental, karmic, or ancestral imbalance or distress. Healing means bringing mind, body, spirit and environment back into harmony, restoring the body's natural rhythm and equilibrium. It does not imply a cure.
Crystals work as tools for energy harnessing…
Think of the micro processor inside a computer, which uses quartz crystals to hold and submit precise signals and frequencies. Crystals work as vessels which are able to hold energy, transmit energy and transmute energy. In order to understand crystals, you have to start thinking in terms of energy, vibration and frequency!
Powerful healing, balancing, and relaxation…
With hundreds of crystals and gemstones as well as many crystal singing bowls in my healing collection here at Om2Ohm, I now offer in depth Crystal Reiki and Sound Healing sessions! Get ready for an incredible experience!
What you will experience…
A Crystal Reiki healing session with me includes a full hour of Reiki 'hands on healing' with intuitively selected crystals placed on the body in a particular pattern to rejuvenate, refresh and balance the mind, body, and biofield (the energy around your body).
Crystals are usually placed on the main seven energy centers on the body called chakras, with a selection of quartz points placed on and around the body to direct and enhance the flow of energy both above and below where crystals are placed. Once the crystals are placed, I then provide a full Reiki session from head to toe. As I channel healing energy to the areas that need the most attention, I am also channeling the clairvoyant guidance you need most at that time. The use and specific placement of the crystals used in your session greatly amplify the healing energy as well as the connection for the channeled messages that comes through!
Towards the end of this amazing session I use my crystal singing bowls to heighten your session and reach your energy more deeply on all levels!
I always end your session with cleansing, repairing, and energy protection!
Once the Reiki session is finished and the crystals removed I will commence repairing and cleansing any remaining negative imprints, holes, tears or leaks in the auric field with my quartz and Mookaite wands along with the entire auric field and chakra system sealed with energy protection.
My Crystal Reiki and Sound Healing sessions are 90 minutes long and always include channeled messages from your guides! Fee: $125
Click here if you're ready for an incredible energy shift with a Crystal Reiki & Sound Healing session! https://checkout.square.site/buy/UVKQEXJF5LT5ZSMLYSYU76YP