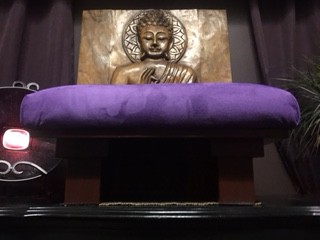 OM Furnishings offers high quality beautiful meditation furniture and energy enhanced accents for blissful comfort and higher consciousness!
The birth of this facet of Om2Ohm has been a natural evolution over several years and we are so excited!
With more than 23 years experience as a professional licensed Interior Designer, I have extensive furniture knowledge that spans the aesthetic as well as the functional. My husband Chris is an incredible woodworker and has an amazing eye for design as well! This wonderful combination and our love of being together and creating together has lead to the creation OM Furnishings!
As a seasoned meditator and owner of Om2Ohm Meditation and Wellness Center, I've put to use many meditation cushions and benches as you can imagine! There are many out on the market today. Some quite beautiful as well as quite expensive but still lacking  the ergonomic features that I believe are crucial for the meditator to be comfortable! The average person just isn't going to be motivated to meditate for any length of time if the seat isn't comfortable and their limbs are falling asleep!
Our designs take into consideration all facets of meditation and the comfort necessary to stick with it and do so in style!
Nurturing and higher consciousness? Who doesn't want these these things while relaxing and meditating? All of our pieces are individually made by Chris and I. We choose only the highest quality materials and put a lot of love into each and every piece from beginning to end. After each piece is created in our home studio, they are taken to my Om2Ohm Meditation & Wellness Center and infused with the joyful and peaceful energy there, channeled Reiki energy , and the vibrational frequency of OM! Yes, even furniture is made of energy and can therefore benefit from this added goodness!
We are designing and creating new pieces every day, including meditation and altar tables, additional bench seating, energy enhanced art, and energy enhanced meditation tools! All will be available to see and experience at Om2Ohm of course but we will ship anywhere in the USA!
Introducing The OM Bench!
We designed this beautiful meditation bench to have double cushioning for maximum comfort and it is the perfect height to ensure that ankles and legs will not fall asleep during practice! Our original pagoda style leg gives a clean but unique look and superior strength and durability! Available in purple faux suede, black faux suede, or upgraded fabrics are available. The solid poplar wood base is available in satin or gloss espresso brown or black. Choice of stain are available as an upgrade.

Order your OM Bench here! Have a different budget or size in mind? Email me with questions or to request a quote! https://squareup.com/store/om2ohm/item/om-bench
The Contemplation Table!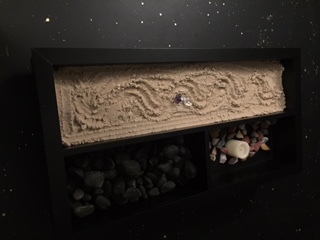 Have a seat, light the candles, and allow your hands to mindfully trace flowing patterns in the sand. Busy minds will easily come to rest.
 This table is made of solid wood, has our exclusive pagoda style leg, and finished with espresso brown or black satin paint. It will include a large quartz crystal, river stones, 2 candles, and sand. Size 18 X 24″ Price: $$295 *Choice of stain available as an upgrade.
Creating hand painted furniture has always been a love of mine! I always use recycled and reclaimed furniture and materials for these pieces. This bookshelf/end table was salvaged at roadside in North Carolina! My designs are usually intuitively lead but commissions are always accepted.
Stay tuned for new pieces monthly!