Private Meditation Instruction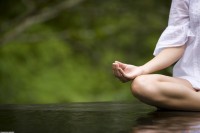 Om2Ohm believes that Meditation doesn't need to be difficult to be deeply effective. The greatest skill anyone can possess is a mind that is clear, quiet, and able to cope with the challenges of daily life. The practice of meditation is the greatest means to befriend your mind and connect you with your deepest inner power!
This private 60 minute session shows you how to befriend your mind and connect with your deepest inner power! With Mindfulness as the foundation, your instructor will start by introducing you to the basics. Certified Meditation Instructor, Sheri Rathburn, will tailor instruction to suit your individual needs and then design the perfect meditation plan for you. Call or email us for pricing details and to schedule an intro session.
For this session, you may also choose to add Reiki as a part of your session! The first 30 minutes would be guided meditation instruction, and the last 30 minutes would be a Reiki energy healing session!
Why learn to meditate?
Reduces panic/anxiety attacks
Lowers the levels of blood lactate.
Controls high blood pressure
Creates a state of deep relaxation and general
Cultivates feelings of wellbeing
Increases serotonin/influences mood and behavior
Lowers serotonin levels
Helps to lessen depression, headaches and insomnia.
Increases concentration, focus, and clarity of mind
Greatly reduces stress and tension
Aids addiction recovery
Improves attention, impulse control, problem solving and reduces stress, anger and anxiety for those with ADD/ADHD or Autism Spectrum Disorders
Aids pre-operative and post-operative recovery
Each private session is 60 minutes and is $75.
Purchase  a package of 3 private meditation instruction sessions and each hour is discounted $10.