Transform Your Vibe ~ Transform Your Life!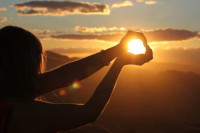 This amazing series of sessions will guide you through a deep transformational experience that will change your life in every way! 
With the fusion of guided breathing techniques , guided imagery, music, sound healing, Reiki, and Intuitive Guidance you will:
Calm the mind and the body
Release stuck energy
Detox emotions
Banish negative thinking
Activate your highest personal vibration
Why is this so transformational?
 Each 60 minute session will have a specific focus: 
Emotional Detox
DNA Activation
Self Love & Appreciation
Chakra Balancing
Authentic Voice  (Throat Chakra Activation)
Spirit Guide Connection
Radical Self Love Lessons
Deep release of old thought patterns
You may choose the suggested agenda or we may decide together that a deeper focus in a given area is called for. Remember, YOU always have a choice in how to use your sessions!
Package Fees:
Individual session $85
3 session package: $240
6 session package $450
8 session package $560
10 session Complete Transformation package  $695
Each session is 60 minutes long and there is quite a lot of information and guidance that comes through me to share with you if you are open to it. The amount of information from your guides and your highest self (your soul self) varies from person to person. This information, otherwise known as as a reading, is channeled through me as your guide and messenger.
Within each hour session, I can share with you the messages that come through the strongest and feel of the most priority. I can also guide you on how to move forward with that information!
I allow about 20 minutes of your "Transform Your Vibe" session to go over these channeled messages with you. If there is more information that comes through that will not fit within this time frame, you will have the option to use more of your package time or add on more time during your session. These additional messages can be given to you at the time of your session or via a follow up email for an additional fee. The fee schedule is listed here below:
$45 per 30 minutes additional time added to your session (This added time can be at the time of your session or via email after your appointment)
YES you may record the Intuitive Guidance portion of your session!