Walking the Shaman's Path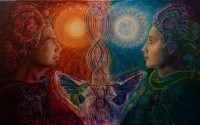 Join Master Teachers Sheri Rathburn, Yaffah Beh, and Orach Seffah Martin, for this deep, and experiential full day retreat to be introduced to the core of Shamanism!
Did you know that Shamanism is the oldest spiritual practice known to humankind? We know from archaeological evidence that shamanism was practiced all over the world for at least 40,000 years. However many anthropologists believe that the practice dates back over 100,000 years!
During this beautiful and immersive day retreat, you will be initiated into the ways of the Shaman and learn how over the ages shamans have cultivated a heightened awareness of their own energy along with the skills to heal themselves and others.
As a daily practice, the Shaman uses these skills to continually transform and balance the light and dark forces encountered in life. You will learn how a practitioner of these skills cultivates the power of the heart. The true power of the heart connects one to all things, drawing power form the great Oneness of life, and opening the pathway to peace.
As the day unfolds YOU will also unfold with these ancient teachings: 
Opening Ceremony and blessings
Breathing practices to balance your autonomic nervous system and facilitate higher consciousness and activate your inner-vision.
Shamanic Journeying & Drumming: a remarkable visionary method employed to access other realms and discover individual spirit helpers and teachers. We will explore a variety of methods on how the shamanic journey can be used to restore spiritual power and health, plus it's application in daily life.
A shamanic journey to meet your power animals: The shamanic journey is an ancient visionary technique used to enter the invisible realm of spirit for healing and guidance. It is the most direct and practical tool for engaging your own inner knowing. Through your journeys you can explore the hidden universe of spirit in the wise and loving care of your spirit allies. Everyone has spirit allies. They are the power animals and helping spirits in the spirit world who protect and help to awaken your dormant spiritual abilities.
The Medicine Wheel & The Four Directions: Sometimes known as the Sacred Hoop, has been used by generations of various Native American tribes for health and healing. It embodies the Four Directions, as well as Father Sky, Mother Earth, and Spirit Tree—all of which symbolize dimensions of health and the cycles of life.
Altar Making: create a physical place for the sacred to live with us in our daily lives. The physical objects, or power objects, on our altars give specific energies a home so that we can work with them each day. Thus a "working altar" allows us to engage with the sacred with focus and on purpose. Through our altar practice we call in the life we want to live in and work directly with spirit to co-create personal protection, direction for our spiritual growth, and the manifestation of our desired future.
Wisdom of the Shaman in Everyday Life: Over the ages shamans have cultivated a heightened awareness of their own energy along with the skills to heal themselves and others.
Come learn about the way of the Shaman from these Master Teachers, protectors and practicing Light Workers of all realms who live this sacred life…
A follow up meditation and discussion circle, supplemental teaching, and course completion ceremony will be held in one month and is included in your fee for this retreat!
Be ready to release energies that no longer serve you and transform energies that impact your life from crisis to blessings..
Be grounded in the way of the shaman and practice physical manifestation in the world…
Be ready to align with the Dream the Universe is dreaming of YOU!
This is the essence of the path of the shaman – BALANCE- to live a spiritual life on practical, mindful, and grateful feet…to tend to your "fields" while you travel the galaxies and explore the depths of your soul.
With guidance, power, and an open heart your path will unfold!
Study materials provided
Lunch will be provided
This event is registration only and seats are limited so that we can keep this event intimate and sacred as well as be sure to provide proper materials for everyone and provided lunch. Thank you! $150 per person through March 11th ONLY!
What to bring/wear/expect: 
Be sure to wear comfortable clothes
PLEASE DO NOT wear perfume/cologne, aftershave, scented lotions, or heavy essential oils! Your teachers, as well as other guests, are highly sensitive. Thank you for understanding!
You will be removing your shoes outside sacred space but slippers and/or socks are permitted
Bring a journal and writing utensil
Blankets and pillows are provided but feel free to bring your own blanket or mat if you like. (nothing too bulky)
Bring water for yourself (some will provided)
Lunch will provided but you may pack a lunch if you have dietary restrictions.
$150 per person until March 11th/ $175 after March 11th!
When
Saturday, March 17, 2018
10:00am – 6:00pm