Witchy Wanderings & Rooted Magick!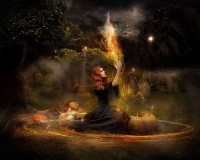 Join me for this mystical day retreat for women to walk the sacred path & cast a little (or a lot) of magick!
~~~This retreat was originally scheduled for April 18th but due to our current Covid19 "stay at home" orders in place, our new date is June 7th!~~~
 I will share with you my many years of experience in the realms beyond the veil…
I will share with you the ways, wanderings and rooted witch teachings that have been passed down to me through my personal channeled guidance from my master witch and high priestess guides in the realms of mysticism, spellwork, lightwork, Earth magick, and candle magick!
This will be a deep and rich experience filled with intense knowledge and love!  You will learn and be inspired, while gathering tools of self empowerment to connect and create your own magick!
Wait…did you say WITCH? Are YOU a witch? Am I a witch?
What is a witch anyway? WHICH way is the right way to WITCH? Am I a witch? A Witch is a wise woman or man, a healer, a Shaman, and seer. Yet for so long the word "witch" has carried negative connotations. In this day retreat, I will share some of the history behind witchcraft, and lead you into exploring this rich reawakening in women and men across the world today and how you can create your own practical magick to empower yourself in your every day life!
We really are ALL "witches" in our own way, and when we connect to source, trust our intuition, and use our magic, we can make medicine to heal ourselves AND the world if we choose to!
Discover this ancient wisdom made relevant FOR modern witches BY a modern witch and have so much fun doing so!!!
Here's what we'll be doing:
Good Witch/Bad Witch and what does that even mean? What a witch is and what it isn't!
Connecting to the the energies and cycles of the sun, moon and seasons.
A lovely and enchanting light lunch will be provided!
Connect with your head witch spirit guides & animals! A very special guided visualization channeled exclusively for this event to aid you with the guides and familiars you need most!
How to create sacred space and use a home altar to focus and align your own intentions for growth.
Candle Magick! We'll be creating our own spell candles!
Angels of Magick and how to work with them
Work with the elements to achieve deep connection with the world around you.
Casting a circle, the hows and whys!
Spell Casting & Crafting 101
Fire Magick and Fire ceremony
Magickal herbs and how to use them. Getting started!
Tea Magick and how to create your own!
This comprehensive workshop is the place to begin your journey in the practice of modern witchiness, psychic development, ritual work. The workshop is designed to help guide both the simply curious to those interested in experiencing an authentic ritual practice while gaining an appreciation of it all!
As a long time practicing High Priestess, I invite you to discover that YOU ARE THE MAGICK! 
A note about my journey and why I am comfortable calling myself a high priestess…
A High Priestess is someone who embodies the duality; standing in the middle of light/dark, good/evil. The High Priestess is the feminine version of a High Priest. How she chooses to display her wisdom is up to her; for she is either self initiated or in coven. I personally, have always been a solitary witch.
The High Priestess is a voyager, a confident vessel that has allowed herself to enter the darkest part of her psyche; to face the inner most workings…
I am self initiated since 2008 (keep in mind the years prior of studying, detoxing and rewiring my inner workings just to devoting myself to the esoteric.) I call myself a High Priestess because of the darkness I've faced and have the intuition to find the light within. Battling my inner demons & making peace; transmuting negativity to my advantage all the while making peace with the vibrations of love & positivity.
My journey of self initiation has allowed me the privilege to break stronghold that was before me — creating and innovating what is perceived as being what is. I allowed myself to be taken over; allowed myself to let go of restraints. The lower restrictions of fear, guilt, and shame had to be released for the wounds of sorrow to heal.
I learned I could heal.
I am healing;
Others and self.
I learned I could bewitch.
I am bewitching;
Others and self.
I learned duality.
I am light & dark;
To others & self.
Balanced.
Being a High Priestess is not just a title that is restricting; it's fluidity allows the carer to creating new traditions with the power for it to be consistent and permanent. I don't mind titles, because from that I can infuse my own character to break what another might think a High Priestess is or should be. There is no limits to the things I can do, and I don't take the title for granted; it holds heritage, culture and a story — my story. I had to find myself again…and I did.

I would be honored to share this special circle of magick and sisterhood with you!
Retreat Fee: $222 includes all materials, lunch, and many take home goodies to start your practice! https://squareup.com/store/om2ohm/item/witchy-wanderings-rooted-magick
I am only accepting 8 guests for this retreat and it is registration only! At least a 50% deposit is required upon registration with the balance due by May 30th!
YES, at this time, I do plan to still hold this day retreat on the planned day. I AM MOST DEFINITELY  keeping a mindful eye on what is happening with the COVID19 pandemic! If I must postpone this retreat, the new date will be Sunday May 17th at the same time! Worse case scenario, if we are all forced to continue social distancing, I WILL be doing this event virtually for all to learn from and enjoy! If you have registered and paid/placed deposit for this event and you choose not to attend, you MAY use your credit for any other service, future event, or intuitive art piece/products that I create.
Please note that Om2Ohm DOES NOT offer refunds for retreats, events, workshops, classes, and prepaid sessions due to the time involved in preparing as well as the efforts and payment that go into securing other light workers as my co-hosts. If you find that you are unable to attend for any reason, or the retreat or workshop is rescheduled and that date does not work for you, you may use your credit toward any other retreat, workshop, private session with me, or products that I create. Thank you!
​
When
Sunday, June 07, 2020
6/7/20 11:00am – 6/7/20 6:00pm