Croning Ceremony Circle & Celebration!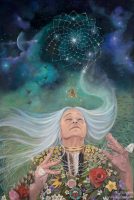 I am so thrilled and honored to now be offering Croning Ceremonies~ A tribute to the crone phase of life!
For some time now, I have been working with my elder guides and master teachers to begin offering Croning Ceremonies that celebrate the lovely heart and soul of the wise woman! What better time than now at the beginning of this New Year of 2020?!
For a long time, to be called a crone was an insult. The very word implied a wrinkled, hunchbacked old woman, unwanted and unloved. Women who had reached an advanced age were dismissed as useless hags, and there was nothing to celebrate about it at all. Fortunately, times are changing, and more and more women are welcoming this aspect of their life. We spend many years in the guise of the Maiden followed by a couple of decades as Mother for many of us. We have MORE than earned our passage to this phase of life along with all of the joy, tears, and battle scars that come with it! So, in my old crone opinion, We have also MORE than earned the right to celebrate this phase as the beautiful wise women that we are!
In many cultures, the female elder is considered a wise woman. She is the healer, the teacher, and the one who imparts knowledge. She mediates disputes, she has influence over tribal leaders, and she cares for the dying as they take their final breaths.
Reaching the status of Crone is a major milestone. As a Crone, you are being invited to reclaim the name of Crone in a positive way, and to see it as a time to joyfully welcome your position as an elder within your family and community.
The crone is the teacher, the elder, and the wise woman!
The Crone is a treasure of history and wisdom. She is one of our sacred wise women. In honoring our elder woman, we also honor the life path which we, as women, all share–the path from Maidenhood to Elderhood.
I fully subscribe to the idea that we can learn something from each and every person that life puts on our path, and when that person is a Crone? Oh the things She can teach!
Lovely Crones are something to celebrate and to applaud. And reaching the Crone phase gives us reason to dance.
I want this and I claim this for my second half of life and I , personally, will continue to embrace my Crone phase, gracefully.  Allow me the honor of initiating you into the same honor and practice!
I like to think I will be able to own my inner Crone and to love her and accept her with all my heart. I want to rejoice in my own Crone status and to wink at the years as they pass, and I want to sing praises to the third phase of my life as the moons wax and wane. I want to embrace the silver and white, and laugh with my descendants, as the fire warms our hearts and our hearths.
Here is what we will be doing this beautiful ceremony and celebration:
We will honor the four directions and the aspects of each direction with spoken word and smudging
I will guide our circle through building our altar to honor our Mothers, Grandmothers, and past Crone Elders
I will teach you of the Crone…who she is and what she represents
Guided meditation specifically channeled for the group from our Crone Guides and Teachers
We will have a fire ritual to burn and lift up anything that we need to release to make room in our hearts
Each woman will be introduced and honored as we give her space to speak what is in her heart
As Croning Ceremony leader, venerated Crone, and ordained minister, I will initiate each beautiful soul through her passage into the Crone Wise Woman.
We will break bread together and sip wine in celebration of this gift of passage!
Final closing circle to give thanks and gifts given to all Crones in attendendance!
The phase of the beautiful, wonderful Crone.
Won't you be a part of  this beautiful Croning Ceremony Circle on Saturday January 25th from 1-4pm? The cost is $95 per person and registration is required to reserve your seat!
I will only be holding 8 seats per ceremony to insure that each is an intimate, powerful, and comfortable gathering for all! I will also be holding Crone Ceremony Circles in February and March as well as for private groups!
When
Saturday, January 25, 2020
1/25/20 1:00pm – 1/25/20 4:00pm