Awaken The Goddess ~ Super Moon Meditation!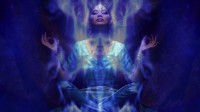 Awaken The Goddess!
Just in time for the second Full Moon of March 2018! The Full Blue Blue Super Moon!
This is the absolute perfect time for Goddesses to release blockages we've been holding within our creation space and open up to the birthing of our soul self…our highest self!!!
With so much change happening within and all around us, women, just like you, are waking up, thirsty for deeper connection to their feminine essence, clear purpose, passion, creativity, joy and empowered living.
Come out of your slumber…
Allow yourself to begin the awakening of your true essence. Open your heart space fully for YOU and experience emergence!
This group experience begins with the Goddess Fire bowl ritual to clear and release what weighs heavy on you so that you can truly harness the essence of you during the upcoming Full Moon and this brand new year!!!
This is a time for new beginnings, to conceptualize ideas, to invoke…
While laying down all nestled in the nurturing cocoon of Om2Ohm, we will continue with a guided meditation designed to reveal the Goddess within and to invoke her presence in your every day life. You will enjoy this relaxing and transformative guided experience layered with spoken voice, music, and healing sound to help you access your true spirit in the Feminine Form!
Sealing it in with sound…
This beautiful Goddess group meditation will gently end with the healing sound of crystal bowls radiating their frequencies all around you. A deep and moving way to seal in the magic of your meditative experience!
This group session is just $30 per person. Advance registration is highly recommended!
When
Saturday, December 30, 2017
3/13/18 2:00pm – 3/13/18 4:00pm