Cord Cutting, Light Body Activation & Messages!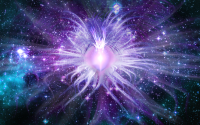 Join me for this deep guided journey & messages session where I will help you to cut the cords and attachments of all that is holding back and to not only bring your power back to you but to also to greatly expand that power and activate your light body!
I have been doing this form of healing for many private sessions with profound results and now my guides are urging me to share it with all of you!
What will happen during this experience:
I will be taking you on a live guided and channeled meditation journey through my voice and music to cleanse and clear stuck energy, cut cords and emotional attachments on all levels, and heal your inner child so that you can make more space for the LIGHT that is YOU and ALL that you wish to manifest this year!
I will guide you through bringing that light and empowerment back to yourself and amplifying it!
I will introduce you (or remind you!) of what your light body is and guide you through visualizing what I call "the grid of light" so that you can continue that practice on your own!
I will be using tuning forks and singing bowls as well to further assist this process.
At the end of this powerful and blissful experience, each guest will receive a channeled message from your guides privately before you leave! It will be short and to the point but typically these messages are quite profound!
YES, this is a very deep meditation. It may be quite intense and powerful for many and that is a VERY GOOD thing! If you are ready for a major shift to happen and you wish to do so in a safe loving environment to begin that process, this is the perfect workshop for you!
$45 per person and registration is required! I only accept 8 guests per session!