Create A Miniature Fairy Garden!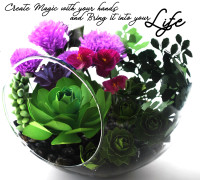 Create your own miniature hanging fairy garden!
When we are in nature, we lose ourselves as individuals and become a part of a bigger whole. Simply because we are all connected as a part of nature. In turn, a deeper sense of connection is built and we can get a greater sense of how nature affects our souls. 
In finding beauty, we tend to skip over the small things that contribute to these aspects. Learning to create all of the small details of these tiny hanging gardens serve as a reminder of the magic of nature, the value of even the tiniest parts and the wonder that all of these things are connected.
So join us and create magic with your hands to bring it into your life! 
At the beginning of the class, we will enjoy a guided meditation with breathing techniques, that not only releases the inner blockages, but also make space for all the new creations we will be making. Centering is integral to our creative outlets and allowing these energies to flow through us can help develop the most magical results.
After the centering meditation, guests will be creating little succulent hanging glass gardens with bits of moss, various plant life and flowers all created from fine Italian paper! This hanging glass garden is a superb way to bring sparkle and life into any room! Placed inside of a 4.5″ hanging glass ornament with real soil complex and river rocks. All materials are provided and wine will be served as well.
This class will be lead by Lea Gray, a fine artist focused in paper floral and plant arts. Lea has an incredible passion for what she creates and loves sharing that with individuals who seek a creative outlet. 
No worries of having prior creative experience, as Lea's patience, virtue and love of teaching will take you on a fun, easy and beautiful journey!
Wine and snacks will also be served!
The fee per person will be $65 and all materials are provided!
When
Saturday, March 24, 2018
12:00pm – 3:00pm