Deep Dive with Crystals for Beginners!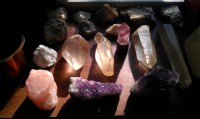 Get ready to dive deep and expand your intuitive connection with the mineral world while learning valuable tools on how to use crystals in your daily life to heal, empower and connect more with your Soul self!
Who is this workshop for?
People interested in working with crystals, but not sure where to start.
Beginners who have a great curiosity about crystals, and maybe even have quite a few in their collection, but don't really know how to work with them yet.
Those wanting to learn how to use crystals for healing, manifesting, & protection.
Anyone curious about working with crystals to see if they want to take things farther.
You will learn:
Why crystals are so amazing and powerful! Yep there IS some science to all of those beauties!
Basics on different types of crystals and how to use them.
Using your intuition to choose crystals and stones
Learn the best crystals to start with
How to cleanse, clear, & program your crystals
How to use your intuition to work with crystals
How to connect and communicate with your crystals
Pick up the different energies of your crystals through meditation
Using crystals for specific purposes
Learn to create a basic crystal grid
Guests will also experience:
Meditation & energy work with crystals
Sound Healing with crystals
What is included in this workshop:
Manual of materials from the workshop
Some lovely take-home crystals to get you started!
THERE ARE ONLY 8 SPOTS AVAILABLE FOR THIS WORKSHOP AND IT WILL SELL OUT QUICKLY!
Investment: $125 per person