Emergence in Bloom!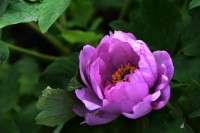 Join Lea Gray and Sheri Rathburn on a journey to explore your deepest creative centers!
We will start with a guided meditation given by Sheri to assist in re-centering, refocusing and replenishing our Sacral Chakra. Thirty minutes will be dedicated to ensuring the deepest balancing and relaxation so that you can allow yourself to be in your best creative space. In addition to this alignment, the guided meditation will also help us to invoke aspects of the paper project we will be creating.
The rest of the class will be lead by Lea Gray, a fine artist focused in paper floral and plant arts. Lea has an incredible passion for what she creates and loves sharing that with individuals who seek a creative outlet.
No worries of having prior creative experience, as Lea's patience, virtue and love of teaching will take you on a fun, easy and beautiful journey!
We will be creating a beautiful paper Hybrid Peony from fine imported Italian crepe papers. Choose from a variety of colors that will resonate with your soul.
The Peony is known for it's symbolism in romance, prosperity, good fortune, riches, honor and compassion. Help bring these wonderful qualities into your life by creating with your own hands. Creative energy is one of the highest forms of manifestation, and it allows us to open many different aspects of ourselves. You will be able to see the flower blossom right before your eyes and find yourself opening deeply in the process!
All materials are provided and you get to take all that you have created with you, including the magic within.
To celebrate Lea's first class at Ohm2Ohm, she will be giving away a beautiful Hybrid Peony Bouquet to a winning student, through our ticket raffle. The drawing will be held at the closing of the class.
Please don't hesitate to tell a friend so that they may share in this experience! 
If you are interested in viewing Lea's work, click on the link here below and see what you will be creating!
www.paperbloomslgd.com
Class fee: $75 per person
*All materials provided!
When
Sunday, January 28, 2018
1:00pm – 4:00pm