Feel Your Zeal ~ Awakening the Well of Dreams!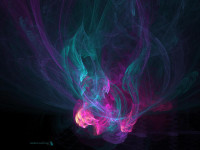 Join me to awaken and activate your Zeal Point Chakra!
This chakra is also known as The "Well of Dreams" and works very closely with the Crown chakra. It makes communication with our spirit guides, guardian angels and other divine beings from the higher realms easier!
The Zeal Point chakra's location is at the base of the skull (the medulla oblongata) and is also called the Mouth of God. When opened, The kundalini is activated as well as some spiritual abilities. Some may experience more Clairvoyance, out of body travel, advanced dream-recall capabilities, healing gifts, telepathy, even empathy are all abilities that this center is responsible for activating.
It is considered as one of the newer chakras and has not yet received the kind of attention it deserves!
When activated, this chakra is responsible for the flow of information from the higher dimensions. While the activation of the third eye chakra helps us become clairvoyant this chakra helps us develop a higher level of clairvoyance. It also opens up or magnifies spiritual abilities, healing gifts, etc. It is said to be blessed by the Buddha. Some experts are of the view that this is the point where the soul enters at birth!
The Zeal Point is an ancient chakra that reawakens the dreamer in all of us and is the origin of prophetic dreams and visions. 
The Zeal Point is usually fully activated only in prophetic dreamers and clairvoyants but is becoming activated in more and more of us at this time.
To learn how to open and activate the ancient Zeal point chakra to awaken and recall the state of pure bliss and joy, join me, Sheri Rathburn, as I take you on a journey into infinite consciousness. This beautiful guided breath work, sound healing, and visualization group session will include clearing, creation, and reality resets to reconnect you with your natural state of being and remove all barriers to living in the pure and highest vibration of gratitude, love, and clear seeing.
During this event, I will also be attuning each guest individually with a powerful healing transmission as we dive into the sweet sacred space of stillness and deep comfort that we can embody in each moment whenever we choose.
This will be a very beautiful awakening, activating, and illuminating experience! 
Fee per person : $25
When
Saturday, December 15, 2018
11:00am – 12:30pm