Full Flower Moon & Love Magick!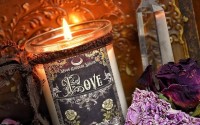 I'm so excited to teach this workshop on Love Magick! 
In this fun and in depth workshop I will be teaching you some simple and magical ways to attract the love of another that you want, practice self love and compassion, and keep or deepen the the love you already have!
Let the sparks begin with a simple wish for love…
We will open this workshop with a beautiful guided meditation & sound healing to cut the cords of fear and truly open your heart to the love you desire AND deserve!
During this workshop, you will learn:
How to use your loving intentions, the moon phases, candles, herbs, flowers, and anointing oils as excellent tools for manifestation. You'll learn ways that they can help us to transform, create, and purify. By using these elements, we are taking our intention to the next level, lighting the way to our wishes and desires!
How to use symbols. Symbols are a source of wisdom and have long been used to represent a mark, an object, or an idea. We use symbolism in conjunction with visualization to create a powerful effect. By writing or carving symbols we are focusing our intention.
About conjuring and anointing Oils that can be used to add extra energy to help boost your intentions. I will teach you to make your own love oil for use on your candles, in sachets, or in your bath. You will get to make your own love conjuring oil to take home!
How to make your own potent love candles with existing candles, herbs, flowers, and the use of symbols and oils!
How to create your own love conjuring magick bath soak and why this important to use!
You will be creating your own Love attraction candle, love attraction oil, and bath soak to take home!
By using all these powerful tools and rituals, you will be creating a very strong source of love energy!
Are you ready????
I only accept 3 people in this workshop! Schedule this magickal workshop with 2 of your favorite people!
$55 per person and all supplies provided!