Full Moon Goddess Circle!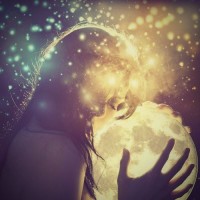 The full moon beckons us once a month to slow down and reflect on our current life journey. This is the perfect time to do some deep soul work. Come join us for a night of deep connection, manifesting and healing!
Although the Full Moon officially takes place this month 5-10 through 5-13, I will be holding Full Moon Circle on May 19th! Currently I am in Hilton Head at the beach gathering up and replenishing my own goddess full moon energy to share with all of you! 
For this Goddess Circle, we will celebrate the Full Moon energy  we just experienced as well as the waning moon energy!
The energy of the Waning Moon can be used to remove those energies and issues that no longer serve you such as letting go of a relationship that may be toxic. It is also leading up to the new moon which can be a time of rest and energy restoration. It is a beautiful reminder to rest, recoup, recharge.
Cleanse your energy, release that which does not serve you. Invite your guides, angels, masters, or teachers to be at your side. Create intentions, connect with your inner Goddess, and flow with the Full Moon energy of May AND the Waning Moon energy we are moving into!
Embrace the power of  the Moon and ignite your authentic soul song with other beautiful women just like you…
Enjoy being a part of this sacred monthly full moon circle! We will start the evening by releasing old stagnant energy and that which no longer serves us through our Goddess fire, water, and air ritual!
Cleansing and clearing breathwork
Gentle flame in our Goddess Fire Bowl to ignite and release our worries as we stand on the earth outdoors
Full Moon infused water enhanced with pure essential Rose oil, crystals, flowers, sound healing, and Reiki to wash our hands and open our hand chakras for receiving universal healing energy!
We will have a sharing of what's happening with the Moon astrologically and what energy it's bringing in as each guest chooses a card from the Goddess card deck! It's always amazing how much this information resonates with each person!
Experience deep shifting and transformation through Guided meditation and DNA Activation with Sheri Mollica Rathburn…
Enjoy being completely relaxed and guided through a visualization meditation to release fear and doubt, awaken intuition and open and activate dormant DNA strands.
You participate in the activation, experiencing the energy of it and making it more powerful.
This deep meditation and 12 Strand DNA Activation utilizes color and sound. The vibrations of the sacred Solfeggio frequencies open the receptors of your cells, allowing the activation to more easily be imprinted on the DNA. Sound sets the vibration of the body at the correct rate to receive the activation at each level. The energy vibration of colors adds to the power of this activation.
You will receive Reiki energy directly to the Pineal Gland through Sheri/ Reiki Master Healer, to deepen your experience.
Set your intentions through the power of the full moon…
The full moon has an intense amount of energy and its important we harness it in some way. After the full moon, it wanes; it is symbolic of the closing of a chapter or reaching a goal. With the full moon, we release what doesn't serve and connect with our new intentions. The energy of the Full Moon amplfies the energy of your intentions!
We will guide you through this process of releasing the old and bringing in the new!
Group Channeling session with Jacki Keys…
Sit amongst the Enlightened Ones channeled by Jacki and experience their wisdom at this perfect time during the full moon!
During this channeled group session, Jacki will go into trance, voluntarily "putting aside" her own personality and temporarily relinquishing partial control to the Enlightened Ones to project their consciousness and speak through Jacki. Profound in nature, thought-provoking, and transformational. Often, her channeling is accompanied by animated hand gestures. This is called a Light Language transmission, which is energetic as well as visual. She will typically speak in English while her hands sign the Light Language, though sometimes it comes through verbally as well. This energy transmission is very powerful whether it be verbal, gestured, or both!
This will be an evening filled with light, empowerment, and transformation so don't miss it! $30 per person  
We fill up VERY quickly for this special event so be sure to register today!!!!
When
Friday, May 19, 2017
7:00pm – 9:30pm