Letters From the Universe!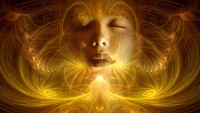 Learn to cultivate a deeper connection with your Spirit Guides, Angels, and your Highest Self and become the conduit for their guidance through deep meditation and channeled writing!
We all have an inner team of Spirit Guides and Angels who provide us with daily guidance and direction. They love to communicate with us and always long to deepen this relationship.
Channeled Writing, also called Automatic Writing, is a form of channelling, and involves allowing Spirit, the Universal Mind, or your Higher Self to simply flow through you, and to create or guide the words that you write. Channeled writing is an intutiive gift and one of the easiest types of psychic communication abilities to develop! EVERYONE has this ability and can develop it to be stronger!
Why would you want to do this?
Channeling is a powerful means of spiritual unfoldment and conscious transformation. As you channel, you build a bridge to the higher realms — a loving, caring, purposeful collective higher consciousness that has been called God, the All-that-Is, or the Universal Mind…. Channeling involves consciously shifting your mind and mental space in order to achieve an expanded state of consciousness.
Even better yet… these written messages form a tangible bridge between you and your guides! They also become permanent reminders affirming your soul purpose!
I will teach you how to begin the practice of Channeled Writing so that you can start cultivating this connection right away!
As Master Teacher, Healer, and Guide at Om2Ohm I channel messages and guidance for my clients, my group sessions, and myself every single day! I do this in many different ways, but channeled writing is my main mode of Spirit and Universal connection!
During this workshop you will:
Be guided through this process easily and effortlessly.
 Learn how to access both "Inspired" and "Automatic" writing.
 Learn techniques to "set the mind aside" and get into the flow.
Learn to establish the channeling connection with Spirit.
 Learn to determine if you are truly channeling spiritual guidance or forcing your will on what you want to hear! : )
 Experience Deep Meditation techniques to get into the flow of connection
 Practice Channeled writing and connect with the guides that wish to come through for you!
Receive certificate of completion
Be elligble to continue on to the Channeling Higher Consciousness workshop
This Group session is for you if :
You are ready to become a powerful creator of your life.
 You are ready to be wrapped in the comfort of Cosmic energy.
You are ready to have a team of Universal partners helping you achieve everything you desire.
Are you ready to learn and experience this incredible connection? YES!
Workshop Fee: $65 per person
Register here! https://squareup.com/store/om2ohm/item/letters-from-the-universe
Note:
Please bring a NOTEBOOK WITH A HARD COVER to do your writing; a clipboard or a lap desk is also helpful.
Dress comfortably
You will also need a GEL PEN, or one that writes fluidly without the need to apply pressure
When
Sunday, February 04, 2018
1:00pm – 3:00pm