Lotus Unfolding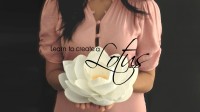 Join fine artist Lea Gray in this very special event as she teaches easy and meditative techniques for creating a beautiful, realistic Lotus out of paper. An exploration into the aspects of trauma and related pains will be conducted at the first part of the class, and then a relaxing journey in creating for the duration. 
As part of this class, we will explore the inner depths of ourselves and discover who we are at the roots. Knowing what has happened to us, doesn't have to be our story, but releasing the truth, becoming vulnerable and allowing others to connect with our own pain can strengthen us. You will not be required to tell your story, but know that you are safe to release if you feel the need.
From this, we can emerge into a new pathway and rebuild as we tell our new story. The story of what really defines us. 
We cannot have lotuses without the mud. We cannot truly be our beautiful selves without our darkest past experiences. It is what shaped us. 
Learning to create this Lotus will help us envision the life we deserve and activate our highest selves. It will bring us closer as we discover our similar pains, our commonalities of becoming our own heroes and simply participating in something that can forever lift us.
A special closing and surprise will be revealed at the end**
Schedule:
Breathing techniques and relaxation with Sheri, Master Meditation Instructor of Om2Ohm 1pm
Releasing our Inner truths 1:30pm
Lotus Creation: Building the New You: 2:30pm
Final Closing of Creation and Special Reveal: 4pm
Spaces are limited! To reserve your spot, please send a payment of $65 to my PayPal account: leagraydesign@gmail.com. Go to www.paypal.comand "send money to a friend".
"If you feel lost, disappointed, hesitant, or weak, return to yourself, to who you are, here and now and when you get there, you will discover yourself, like a lotus flower in full bloom, even in a muddy pond, beautiful and strong." 
― Masuru Emoto, Secret Life of Water 

When
Sunday, October 14, 2018
1:00pm – 4:00pm