Ma'Heo'O Reiki II Certification!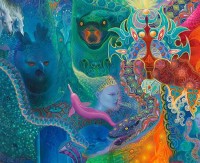 Ma'Heo'o Reiki Level II Certification! Dive deeper into the world of Great Spirit and be attuned to the final 4 Symbols and their healing energy!
What guests will experience:
Greetings, Opening Meditation, Cleansing/Clearing ,Offerings to Great Spirit
Group discussion/Experiences since being attuned to level I/ Feedback on Medicine Wheel homework.
Additional teachings on the 5 Elements
Meditation to connect to the 5 Elements
Ma'Heo'O Level 2 Symbols, their meanings, and application
Shamanic Journey to connect with your main Ma'heo'O Spirit guide or Elder.
 Level 2 Attunements & Ceremony/ This will be done individually
Using the Ma'Heo'O symbols and the 5 elements to balance the 7 main Chakras
Closing Meditation, short fire ceremony to re-ground and thank our Elders.
** I only accept 6 students per class so please don't hesitate to register ASAP!
**Our time during this Level 2 workshop is set for 4 hours but may end earlier depending on the size of the group.
When
Sunday, March 08, 2020
3/8/20 1:00pm – 3/8/20 4:30pm