Ma'Heo'O Reiki Level 1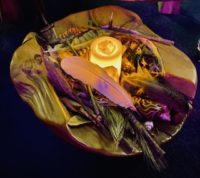 I would be honored to be your Ma'heo'o Master Reiki Teacher!
Being a conduit for passing down this beautiful shamanic inspired system of healing is one of my greatest passions!
Ma'heo'o translated means Great Spirit or Great One.  This system of energy healing combines the elements of Earth, Air, Water and Fire with the Great Spirit to effectively activate and promote healing in the human condition.
Ma'heo'o combines the gentle energy of Reiki with the raw power of earth elements, the nurturing connection of Great Spirit, and the sacred practice of using the Medicine Wheel into a unified system. Ma'heo'o Reiki can bring you more into balance with your highest self, your soul purpose, and your personal sacred path! This beautiful healing system can also greatly deepen your intuition and your abilities as a healer and light worker!
This certification and attunement is offered in 2 levels. Each level is about 4 hours long, includes training manual and materials, The ceremonial and sacred attunements for each level, certificate (given at the end of each workshop), and ongoing mentorship and practice with supplemental teachings.
NO previous Reiki experience is required! You WILL be learning about traditional Reiki as it relates to Ma'Heo during this level I Ma'Heo'o course!
What happens during this certification workshop:
Opening ceremony and meditation to become centered and welcome our Spirit Elders
What Ma'Hao'O Reiki is and what it isn't
What is Traditional Reiki energy healing and how does it relate to Ma'Heo'o Reiki?
Following your Sacred Path
Learn about the Earth Elements and how they can heal, inspire, and empower others
Shamanic Journey to be introduced to your main Ma'Heo' O Spirit Guide
Learn about the medicine wheel and how to incorporate it into your Ma'Heo'O sessions
The first three Ma'Heo'O symbols. their meanings, and uses in sessions
Ma'Heo'O ceremonial attunement to the first three symbols
Important information! 
The fee for each level of Ma'Heo'o certification workshop is $325 per person. Workshop fee includes in depth student manual, ceremonial attunement to the symbols for each level, and 1 Ma'Heo'O group practice session and supplemental teaching (this takes place on a separate day)!
This beautiful certification workshop is only open for 6 students at a time and will be held at my home studio in the Arena District downtown.
Things to remember for the day of each workshop:
PLEASE refrain from wearing perfume, cologne, scented lotions, and heavily applied essential oils as I and others are highly sensitive and allergic in many cases!
Be well rested! This is a 4 hour class and you will be receiving spiritual and energetic attunements.
Dress comfortably, bring water, light snack, journal/notebook, and pen.
This will be an amazing and transformative day! I can't wait to see you all!
***Please make note that Om2Ohm does not issue refunds for workshops and classes. If a class or workshop is rescheduled due to unforeseen circumstances, the student's credit will be applied to the class/workshop on the new date. If the student chooses not to participate in a class/workshop, that credit can be applied to any other Om2Ohm class, workshop, or other Om2Ohm service.
When
Saturday, October 21, 2023
10/21/23 12:30pm – 10/21/23 4:00pm