Ma'Heo'O Reiki Level 1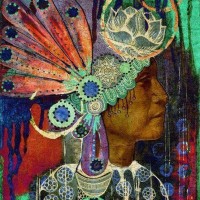 I am so excited to announce that I offer Ma'heo'o Reiki Certification! Although I had been channeling and using this method of Reiki in combination with traditional Reiki for sometime now, I'm honored to have been formally trained and attuned as a Ma'heo'o Master Teacher! Such a beautiful system of healing!
Ma'heo'o translated means Great Spirit or Great One. The word Ma'heo'o is Cheyenne, a Native American language. This system of energy combines the elements of Earth, Air, Water and Fire with the Great Spirit to effectively activate and promote healing in the human condition.
Ma'heo'o combines the gentle energy of Reiki with the raw power of earth elements, the nurturing connection of Great Spirit, and the sacred practice of using the Medicine Wheel into a unified system. Ma'heo'o Reiki can bring you more into balance with your personal sacred path as well as greatly deepen your intuition and your abilities as a healer and lightworker.
This certification and attunement is offered in 2 levels. Each level is 4 hours long, includes training manual and materials, very ceremonial and sacred attunements for each level, certificate, and ongoing mentorship with supplemental teachings.
NO previous Reiki experience required although the completion of Traditional Reiki I is very helpful.
What happens during this certification workshop:
Opening ceremony and meditation to become centered and welcome our Spirit Elders
What Ma'Hao'O Reiki is and what it isn't
Following your Sacred Path
Learn about the Earth Elements and how they can heal, inspire, and empower others
Shamanic Journey to be introduced to your main Ma'Heo' O Spirit Guide
The first three Ma'Heo'O symbols. their meanings, and uses in sessions
Ma'Heo'O ceremonial attunement to the first three symbols
What do you do with and how do you apply your Ma'Heo'O certification?!
The fee for level one certification workshop is $175 per person. Workshop fee INCLUDES Ma'Heo'O group practice session and supplemental teachings on creating your own medicine wheel!
This class is registration only! I only accept 8 students per workshop so be sure to register ASAP and secure your spot here: https://squareup.com/store/om2ohm/item/maheoo-reiki-certification
All available dates for Ma'Heo'O Reiki training:
Ma'heo'o Reiki Certification Level 1 ~March 16th 1-5pm $175
Ma'heo'o Reiki Certification Level 2 ~March 17th 1-5pm $175
Ma'heo'o Reiki Certification Level 2 ~May 18th 1-5pm $175
PLEASE refrain from wearing perfume, cologne, scented lotions, and heavily applied essential oils as I and others are highly sensitive and allergic in most cases!
Be well rested! This is a 4 hour class and you will be receiving spiritual and energetic attunements.
Dress comfortably, bring water, light snack, journal/notebook, and pen.
When
Saturday, March 16, 2019
1:00pm – 5:00pm