Ma'Heo'O Reiki Level I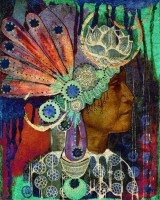 I am so excited to announce that I offer Ma'heo'o Reiki Certification! Although I had been channeling and using this method of Reiki in combination with traditional Reiki for sometime now, I'm honored to have been formally trained and attuned as a Ma'heo'o Master Teacher! Such a beautiful system of healing!
Ma'heo'o translated means Great Spirit or Great One. The word Ma'heo'o is Cheyenne, a Native American language. This system of energy combines the elements of Earth, Air, Water and Fire with the Great Spirit to effectively activate and promote healing in the human condition.
Ma'heo'o combines the gentle energy of Reiki with the raw power of earth elements into a unified system. Ma'heo'o Reiki can bring you into contact with your spirit totems, give you your sacred name and balance your body through work with the elements and the Great Spirit.
This certification and attunement is offered in 2 levels. Each level is 4 hours long, includes training manual and materials, very ceremonial and sacred attunements for each level, certificate, and ongoing mentorship with supplemental teachings.
NO previous Reiki experience required!
What happens during this certification workshop:
What Ma'Hao'O Reiki is and what it isn't
Learn all about the elements and how they can and WILL apply to your healing practice
Each student will be introduced to and experience their main totem/sprit animals
What is the Great Spirit and what does that mean for your Ma'Heo'O practice
Using the earth elements to heal and help others
You will learn all of the Ma'Heo'O principles and how to incorporate them into a healing session
Earthing and Universal connection/The great spirit and cosmic balance
Ma'Heo'O ceremonial attunement to the first three symbols
Each student will learn about and absorb their Ma'Heo'O name and responsibilities/duites as assigned by the Great Spirit
What do you do with and how do you apply your Ma'Heo'O certification?!
The fee for this level one certification workshop is $175 per person.
Level 2 will be offered June 30th  from 1:00-5:00pm
I only accept 8 students per workshop so be sure to register ASAP and secure your spot here: https://squareup.com/store/om2ohm/item/maheoo-reiki-certification
When
Sunday, February 10, 2019
6/5/19 1:00pm – 6/5/19 5:00pm