Moon Medicine & Yoni Bliss! FREE!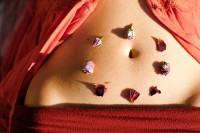 I'm so excited to offer this beautiful FREE Moon Medicine & Yoni Bliss workshop to introduce women (or remind them as the case may be) to honoring our most sacred feminine space!
Yes, THAT space!
Since I've become inspired and have devoted much of my practice at Om2Ohm to uplift women everywhere, I have been continually researching topics such as moon cycles, moon rituals worldwide,, womb healing & breath work, Yoni, Bajos, and chai-yok practices—-I have had many people reach out to me inrigued and wanting to learn more!
This educational and social, female only gathering is FREE of charge because I am so passionate about helping women of all cultures and walks of life to honor, love, and take care of themselves in healthy, peaceful, and beautiful ways!
Here's what we'll be discussing:
Learn all about honoring and healing the Yoni! Yoni is the Sanskrit word for Vagina or Womb…Our most sacred feminine space and the core of our power!
Yoni Crystal and Gemstone Eggs ~ Put a crystal egg WHERE?!
At one time Yoni Eggs were simply known as Jade Eggs. Their use has been traced back to China over 4000 years ago. At that time these eggs were considered very costly and reserved only for Royals. Royal women and concubines would utilize Jade eggs to tone and strengthen their yoni for the purpose of general health and sexual prowess. More recently – with the global accessibility of various stones and crystals – other stones have begun to be used.
Why use Yoni Eggs? Much like clean eating, meditation, and exercise – ongoing awareness and exercise can serve women at every phase of our lives. From our youth – helping us understand and connect with our Yoni to our elder years. There are many physical, energetic, AND spiritual benefits to a woman connecting deeply with this most sacred part of her anatomy. Many women feel a sense of shame and disconnect when it comes to their Yoni. Some Yonis hold trauma from previous sexual experiences, negative child birth experiences, and reproductive health issues (such as fibroids, painful periods and the like). As you work with the various types of eggs in a conscious and beautiful way – you begin to heal these things – pleasurably.
I'll be teaching you how easy Yoni Eggs are to use, their benefits, which crystal and gemstone eggs are good for what purpose, how to program/charge them with your energy, and how to choose the right ones for you! DON'T WORRY…I will not be showing you my Yoni or demonstrating egg use in this way LOL! See where your mind went?
NO, this IS NOT a sex toy party. Geesh.
Yoni Steaming ~ Wait, what? Steam my what??!!!
Yep, this treatment may sound odd at first, but the truth is that, for millennia, women have shared this powerful practice among one another, inspiring each other to heal, nourish and love our bodies. Today, countless women are rediscovering the practice! I'll be teaching you how you begin this practice and maintain it in the privacy of your own home!
The steaming process, also know as Bajos in the Mayan Tradition, Chai-Yok, in Korean Tradition is a powerful ancient remedy that has been used for centuries by women worldwide to support deep wellness. Also known as vaginal steaming, chai-yok, or bajo, it is a holistic health practice in which a woman allows the warmth of herbal steam to gently permeate the exterior of her vagina.
You will learn how you can safely, peacefully, and discreetly practice this beautiful ritual at home! and how this can maintain female reproductive health and treat various conditions such as infertility, menstrual cramps, hormone imbalance, fibroids, ovarian cysts, womb trauma, and more.
You will, even more importantly,learn all about this ancient ritual as an opportunity to heal from past relationships, traumas, and and shame or guilt you may hold while learning to connect deeply with, celebrate and cherish all aspects of your body and their subtle energies especially that of your most sacred Yoni space!
We'll also do a short but powerful womb healing and empowering meditation together utilizing ancient breathwork techniques!
I will have many Om2Yoni Crystal and Gemstone eggs for sale as well as Om2Yoni Herbal blends all packaged and ready for your use at home!
Special Discounts will apply at this workshop only!
Guests will receive an email after this workshop with all of the detailed information that we covered!This will be fun and another great way for our Goddess tribe to connect! Can't wait to see you all!
Love, Sheri

When
Sunday, August 19, 2018
2:00pm – 4:00pm