Lunar Power Readings!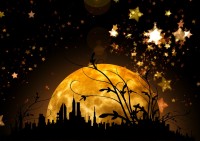 Make an appointment with me this week for some deep Psychic guidance and channeled messages from your guides!
You may choose and in-person session at Om2Ohm or you may choose to have me do a Channeled Soul Letter for you wherever you are!
It's time to harness the cleansing and renewal energy of the Waning Moon!!  Sessions will be only $75 per hour (normally $85-$125 per hour). 
WOW… what powerful Full Moon energy we have had and so many dramatic earth and cosmic shifts as well ! As this energy begins to smooth out going into this next phase of the Waning Moon, it is the perfect time to banish old habits, remove make your plans, set your intentions, and get some answers to your life's questions!
The Moon has four main cycles… New, Waxing, Full & Waning.
Each carries a very distinctive energy that we can utilize to energize ourselves. The Moon has beautiful feminine energy to share with you!
During the Waning Moon, the moon is going from fully illuminated to decreasing in its illumination BUT that doesn't mean that YOUR light is dimming! This phase is simply an invitation to reflect inward and be more mindful of your intentions.
Directly after the light of the full moon has passed that the light begins to grow less visible each night, is a Waning Moon. The energy of the Waning Moon can be used to remove those energies and issues that no longer serve you such as letting go of a relationship that may be toxic. It is also leading up to the new moon which can be a time of rest and energy restoration. It is a beautiful reminder to rest, recoup, recharge.
Use this Waning Moon energy to your advantage…I can help you:
Receive the answers to questions you have right here and now
Cut old cords and remove what is holding back/ Find out What IS holding you back!
Review endeavors and correct mistakes.
Settle disputes and make amends.
Start taking things apart. Addictions; Divorce; Stress; Unnecessary negativity; Bad or unwanted Habits;
With decision making; Emotions; Protection; Unwanted influences; Unwanted situations;
Healing, banishing what shouldn't be there; Old ways of thinking and doing things.
Start work on removing obstacles.
Reveal your soul purpose!
Find your soul mate or twin flame
If you use this period consciously, you can tap into a pretty amazing current of energy that can aid you in releasing and shedding old people, places, items, emotions, addictions, habits and things that belong in 'the past' and turn to something new you'd like to experience on your life journey!
As with each unique reading and session:
We can discuss anything you like.

 I'll  take a look at things from Your Perspective – Your life, Your relationships, & Your options!

Whatever information needs to come through for you most at this time WILL!

I will share what I felt, any images & messages I received, what they mean, and also what to do with that information!

It is my goal as a conscious channel and guide to help you and empower you on all levels! 
Oppositional Energies & Things to bear in mind – The polar opposite energy is pulled into the picture since the Sun and Moon are opposed during this time. We'll look at what balancing act and juggling game you may face and how best to satisfy both needs and drives for internal harmony and external peace.

How you can tap into and enhance your Life Experience under this particular Waning Moon: Where you're likely to be 'at', emotionally and how to best prepare for this period ahead of time or find grounding during this changeable time.

Potential Issues/Energies/Situations Coming to Light or Coming to Conclusion – The significance of personal emotional climate as you enter or during this cycle. How outer events manifest due to inner shifts and how you can use the reverse pattern to have more effect on your surroundings! What you can learn from events coinciding with the Waning Moon.

What to focus on during this Releasing Period – what to let go of to allow for new developments.

Signs, clues, messages and messengers you're likely to spot, meet, feel or possibly miss (if you're not paying attention) at this special time asking for closure, seeking resolution and demanding your personal emotional focus and attention, in order to effect needed change in your life.
*** THIS SPECIAL IS BEING OFFERED THIS WEEK ONLY FROM 9-11 UNTIL 9-16!
When
Tuesday, September 12, 2017
11:30am – 8:00pm