Reiki II Certification!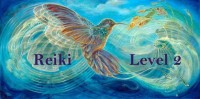 Learn the next level of Reiki and become a Second Degree Reiki Practitioner!
Join Master Reiki Teacher Sheri Rathburn as she guides you in becoming an even stronger conduit and vessel for Reiki healing. Sheri not only has years of training and expertise as a Reiki Master practitioner and teacher, she also has profound gifts as an intuitive, sound healer, and empath which deepen and strengthen her Reiki teachings.  In this workshop, it is both a passion and a calling to further the gift of Reiki for  students so that they and others may benefit from  the highest quality of healing and the deepest unconditional love and compassion that it represents.
Reiki II ~ The Second Degree of Reiki focuses on healing at the mental and emotional level. It's time to get into the full flow of Reiki energy!
During this immersive workshop you will:
Learn to help heals past lives and assist with addictions and negative thinking patterns.
Distance Healing is also learned and practiced. Distance healing includes sending Reiki to someone around the globe, or just across town! It also includes healing our earlier years, or situations in this life, as well as the ability to heal our past lives, or Karma.
You are attuned to the next level and learn two additional Reiki symbols.
You will also learn how to connect further with your own Reiki spirit guides!
Further your spiritual growth & healing
Learn to let go of belief's that no longer serve you
Create a greater flow of Reiki & learn to become a stronger channel
Increase your intuition & work at a quantum level
Receive your Level II attunement which enables you to practice as a Second Degree Reiki Practitioner
This level also activates a 2nd 21 day chakra cleanse (more about this in class!)
This is how Sheri embraces Reiki…
It is what she teaches and practices ever day…
It is how she helps to heal and empower her clients…
It is her way of life…
This is what YOU will learn along with an abundance of nurturing and personal attention!
This is a 3 1/2 hour certification workshop. Please dress comfortably and bring water to keep yourself hydrated. I will provide light snacks for  our short break midway through.
** Please note that You must already be certified in Level I, in order to attend this class.  If you did not receive your Reiki Level I certification with me, please bring your Level I certificate with you or some form of proof that you have achieved level I.
*** The fee per person will be $125 through  March 8th only! The fee after March 8th will be $175 per person! Register now to take advantage of this special pricing! 
PLEASE refrain from wearing perfume, cologne, scented lotions, and heavily applied essential oils as I and others are highly sensitive and allergic in most cases!
Be well rested! This is a 3 1/2 hour class and you will be receiving spiritual and energetic attunements.
Dress comfortably, bring water, journal/notebook, and pen.
When
Sunday, July 14, 2019
1:00pm – 5:00pm