Sacred Luminous Moon Day Retreat!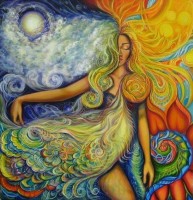 Join me for the first Luminous Goddess Mystery School Day Retreat at Om2Ohm September 8th and 9th!
This beautiful and transformational retreat will set my Mystery School's epic ongoing teachings and certifications into full motion!
During this Sacred Luminous Moon training, you will learn all of the following and receive a certificate of completion:
How your body cycles with the moon phases and how to live connected to this rhythm
How to connect with your womb space and why this is important
How to manifest and use this powerful practice in your life to attract anything you want
How to use herbal medicine for different times in your cycle
How to use yoni eggs and how they can transform your life
How to unlock the Luminous Goddess inside of you
The significance of the new moon and full moon times
How to create a sacred altar and sacred practices in your daily life
How to use fire and water rituals
How to use meditation to heal, balance, & activate your womb
How to use meditation to unlock and activate your higher chakras
How to reconnect to your intuition
How to connect with your Goddess Guides
The archetypes of the feminine and womanhood
How crystals can be used to support our health
And so much more!
Lunch will be provided both days!
This is an immersive and intensive retreat so I will only be accepting 11 women at a time for each retreat! 
Save your spot here to be amongst the very first Luminous Goddesses! This is a registration only event! https://squareup.com/store/om2ohm/item/luminous-goddess-mystery-school
Goddess investment: $395 for the entire weekend $111 deposit required to reserve your spot.
Pay your balance by September 3rd at 10pm and receive $50 off! After 9-3 the full $395 fee will apply!
*** This is not an overnight retreat but 2 day retreats. September 8th and September 9th from 11am until 5pm! : )
When
Saturday, September 08, 2018
11:00am – 5:00pm