Sacred Feminine Awakening!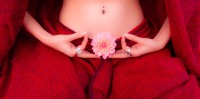 Are you ready to reconnect with your Sacred Feminine source and the deep, ecstatic wisdom and wildness that she holds? Are you ready to merge with the cosmic womb of creation and the web of life? Then this gorgeous day retreat is for you! 
Dive deep into the experiential immersion of the Ancient Feminine Mystery of  Womb Awakening combined with alchemical teachings for inner rebirth. Learn about and gain the sacred tools you need to create deep and sustained transformation! 
 The Womb is a Sacred Vortex of Creative Energy, Love, Pure Bliss and Life itself.  It is A Power Center and Record Keeper; the Zero-Point where life begins and where life returns.
Perhaps for a long time now, you haven't felt safe to open, to blossom, to surrender to the bliss that pulses within you or to embrace your feminine wisdom… A lot has happened in our lives and all around us in this world , leading us to a deep individual and collective disconnection and disassociation with our sacred creative and pleasure center, the Yoni & Womb.
The time has arrived where it's safe to awaken and embrace the Feminine Mysteries that lives within our body-temple.
Now is the time to Reconnect, to Claim what has been lost, to Embody the Wisdom within and Embrace the gifts we behold.
What guests will experi
Awaken the Sacred Womb Space through deep guided meditation
Group cleansing, clearing shamanic energy work for womb awakening
 Learn about the power of the moon and its connection to sacred Womb Consciousness
Learn Connect to Body- and Womb-Based Intuition
Learn about Yoni Crystal and gemstone eggs and how to use them
Learn about Yoni steaming with herbs to support your sacred womb awakening
We will make a "fire bundle" that represents that which we are releasing from our sacred womb space
Create Deep Self-Honor & Sacred Boundaries
Allow me the honor of being your midwife on this journey to remembering! 
This powerful half day retreat will involve shamanic journeying, meditation, sacred sound, simple movement and sacred ceremony. As a clairvoyant empath, I will also most likely receive channeled messages which I will share with each guest!
It will be a powerful way to connect you to womb…your creative AND creation center. The womb isn't just the space for the creation of human life, it is also a large part of our emotional center energetically. It is where our dreams are born and also where we grieve if those dreams did not manifest into reality.
Other ways this retreat can also be instrumental…
in releasing past intimate relationships and the energy that imprinted itself with them
making space for new creative energy and flow
generational womb energy imprints/Familial trauma
releasing womb grief after loss/abortion/miscarriage, painful menstruation
infertility and preparing for/inviting conscious conception.
Investment per person: $125
Here at Om2Ohm, I specialize in private and semi-private small  groups of no more than 3 people per event. This insures that every guest has an amazing experience, we all honor safe social distancing, and no one is ever overwhelmed with the energy of too many people. This also allows for plenty of interaction and sharing within the group as well!