Walking Meditation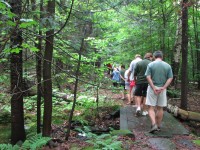 Join Certified Meditation Instructor Sheri Mollica-Rathburn to transform your routine walk into a soothing meditative practice. Learn this special technique to harness the rhythm of your mind and breath to experience more physical fitness, a deeper appreciation for the nature around you, and more mental clarity.
This week we will meet at EMILY TRAPHAGEN PRESERVE 5094 Seldom Seen Road, Powell, OH
All will first gather at shelter house that can be seen right from the parking lot. Guests will be guided through some simple breathing and mindfulness techniques before a joyful and enlightening Walking Meditation. After our walk we'll gather at the shelter house once more to share a bit about our experience before bidding a peaceful farewell.
This IS A FREE EVENT. Please be mindful that I volunteer my time  so please DO RSVP. Thank you!
Due to the meditative focus of these gatherings, we ask that you not bring pets or children with you. (We adore both though!)
When
Saturday, May 14, 2016
5/2/16 10:30am – 5/2/16 11:30am