Color, Light, & Sound Session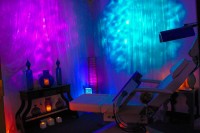 Bathe your mind and body with healing light, color, and music! 
to push out anxiety, S.A.D. and mild depression! Our OmColor Rejuvenation Room integrates color LED light with the sound frequency of each color and adds a top layer of beautiful music for your healing and relaxation pleasure.
This service is sold in 60 minute increments but may be split into 2 separate sessions of 30 minutes each. Save $5 per hour by purchasing a 6 session package!
Om2Ohm / Sheri Rathburn makes no claims of medical treatment or cure. These sessions are not a substitute for medical care and consultation. Om2Ohm sessions are supportive and integrative healing modalities and are not a diagnostic method, medical treatment, or cure. Consult your physician for diagnosis and treatment where necessary.