Witchy Wanderings & Rooted Magick!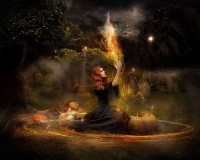 Join my sacred soul sisters and I for this mystical full day retreat for women to walk the sacred path & cast a little (or a lot) magick with us! 
SUNDAY AUGUST 25TH 11:00am TO 7:00pm
Myself, Christina Dayton Powell, and Corinne Baker will all be combining our witchy lineages and many years of experience in the realms of magic, Mysticism, lightwork, healing, and clairvoyance to provide you a deep and rich experience filled with intense knowledge and love!
This will be a beautiful, empowering, and educational day on a wide range of magical subjects! You will learn and be inspired, while gathering tools of self empowerment to connect and create your own magick!
What is a witch? WHICH way is the right way to WITCH? Am I a witch? A Witch is a wise woman or man, a healer, a Shaman, and seer. Yet for so long the word "witch" has carried negative connotations. In this day retreat, founders of the Witchy Wanderings & Rooted magick movement, Sheri Rathburn, Christina dayton Powell, and Corinne Baker, will share some of the history behind witchcraft, and lead you into exploring this rich reawakening in women and men across the world today and how you can create your own practical magick to empower yourself in your every day life!
We really are ALL "witches" in our own way, and when we connect to source, trust our intuition, and use our magic, we can make medicine to heal ourselves AND the world if we choose to!
Discover this ancient wisdom made relevant FOR modern witches BY modern witches and have so much fun doing so!!!
Here's what we'll be doing:
– Good Witch/Bad Witch and what does that even mean? What a witch is and what it isn't!
~ Connecting the the energies and cycles of the sun, moon and seasons.
~ A lovely and enchanting lunch will be provided!
~ Connect with your head witch spirit guides & animals! A very special guided visualization channeled exclusively for this event to aid you with the guides you need most!
– How to build and use a home altar to focus and align your own intentions for growth.
~ Candle Magick! We'll be creating our own spell candles!
– Cleanse, purify, and create sacred space.
– Work with the elements to achieve deep connection with the world around you.
~ Casting a circle, the hows and whys!
~ Intro to Astrology and Crystal Chakra balancing w/Christina!
~ Spell Casting & Crafting 101
~ Channeled Light Language with Corinne!
~ How to create a spell jar
~ Earth Weaving and Earthing ceremony
~ Fire Magick and Fire ceremony
~ Magickal herbs and how to use them. We will also be creating some of our own potions and tinctures as a group!
~ AND SO MUCH MORE!
This comprehensive workshop is the place to begin your journey in the practice of modern witchiness, psychic development, ritual work. The workshop is designed to help guide both the simply curious to those interested in experiencing an authentic ritual practice while gaining an appreciation of it all!
Om2Ohm and the Witches Wanderings & Rooted Magick Movement Invites you to discover that YOU ARE THE MAGIC!
We can't wait to share circle with you and be your teachers!
Retreat Fee: $333 includes all materials, lunch, and take home goodies to start your practice! https://squareup.com/store/om2ohm/item/witchy-wanderings-rooted-magick
We are only accepting 9 guests for this retreat and it is registration only! At least a 50% deposit is required upon registration with the balance due by August 11th!