Master Reiki Certification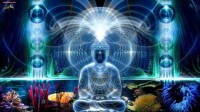 Get ready to be immersed in an in-depth exploration of Reiki energy and your relationship to it as a healer! 
Everything I know and experience as a Master Energy Healer, how energy works, our intuitive powers, our connection to our guides and angels, the spirit of healership, and so much more is woven together to create this deep dive into Advanced Reiki.
With Reiki Level 3, you will be encouraged to embody and integrate reiki into your life so it becomes who you are rather than what you do.
Reiki Level 3 relates to self mastery which we know doesn't happen overnight! It is a process of living and learning, but from a place of inner power. It is about knowing who you are and stepping into a life to reflect who you are. It is about being true to yourself, loving yourself unconditionally, and of being of service in this world according to your innate abilities and talents, while at the same time fulfilling your highest purpose.
With Reiki as one of our greatest healing and activating tools, we can do and be ALL of these things!
During this powerful 1 day workshop you will:
Receive Master Level attunement for the Master symbols
Learn ways to work with the Master symbols in conjunction with the other symbols
How to make a Reiki grid that will continue to send Reiki to yourself and others after it is charged.
Learn a better understanding of your experiences giving and receiving Reiki
Learn and Practice exercises that heighten the channeling of Reiki in specific energetic centers (chakras, hara line, meridians, and auric field for example)
 Experience advanced Reiki meditations channeled exclusively by Sheri's Reiki Guides
Symbol Practice: how to use the Usui Master Symbols
Hands-on practice to strengthen your abilities
The class is a combination of lecture, discussion, ceremony, demonstration and practice. The Advanced Reiki Placement is an enlightening and transformational energy attunement that enables you to use the Usui Master symbols in your life and in your healing work!
** All Reiki Certification workshops are being held privately or semi-privately at this time due to social distancing measures in place! So, you may schedule your certification with me 1:1 or you may choose to do this workshop with 1 to 2 other people of your choosing! You may choose a weekday for this workshop or a weekend time.Due to this workshop being 3-4 hours long,  I do not offer evening appointments for this certification course.
This Reiki Certification workshop is to be taken after completing both Reiki I and Reiki II.