Candle Magic & Abundance Manifesting!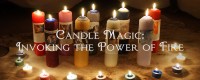 Let the sparks begin with a simple wish…
The candle is an excellent tool for manifestation. Fire represents transformation, creation, and purification. By using this element, we are taking our intention to the next level, lighting the way to our wishes and desires.
Symbols are a source of wisdom and have long been used to represent a mark, an object, or an idea. We use symbolism in conjunction with visualization to create a powerful effect. By carving symbols into the candles we are focusing our intention.
Oils can also be used to add extra energy to help boost your intentions. My "Invoke" Oil blend of gemstones, herbs, and fragrance oils are specifically design for your goals.
By using all these powerful tools we create a strong source of energy.
Whether it's love, business success, peace, spiritual growth, balance, or protection; setting the right intention in a positive direction can change your way of life.
In this class…
How to connect to your highest self for candle magic
I will teach you about candle colors and which ones to to use for specific intentions
We will talk about symbols and how to choose and use them.
Learn how to apply the symbols to your candles
How to set intentions for the highest good
Create 2 candles of your own to take home (basic candles provided)
We will create a very powerful abundance candle together!
Wine, water, sparkling water, Psychic Dream Tea, & cheese and crackers will be served!
$40 per person. I only accept 10 guests per class! Pre-payment is required to reserve your space! 
Payment includes 2 candles, 1 candle holder, 1 quartz crystal point for inscribing, and 1 Invoke intention oil, some extra herbs and dried flowers to take home!
When
Thursday, September 19, 2019
7:00pm – 9:30pm