Invoking Angels!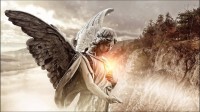 Everyone (including you), whether you realize it yet or not, has Angels and EVERYONE is able to communicate with them and receive their guidance! This workshop is your perfect opportunity to learn how!
We all have Guardian Angels, Archangels and so many different Angels guiding, supporting, and loving from beyond the physical. Why might you not be aware of them yet? Angels honor your free will and honor your opportunity to make choices in your life at all times. They will always honor your space to learn lessons. Because of this, they often won't interfere in your reality without your permission.
However, when you invite you Angels to be with you by invoking them into your present moment… Your angels are more than happy to connect with you, to uplift you vibrationally, and to flow their love, healing, guidance, and support into all area of your life!
Angels are our guardians and guides. They are divine spiritual beings of love and light that work with humanity to help us in this lifetime. Guardian angels are unique to each person; we each have our own team. For some people this may be one angel, for others it may be many;
Guardian Angels and Archangels work with our spirit guides to form what I like to call our "Celestial Guidance Team". Together, this team can give each of us protection, healing, guidance, inspiration, opportunities, support, comfort and just about whatever else we may need. When asked, they conspire on our behalf for our highest good. While there is no formal training or technique needed to ask your angels for help, there are some specific ways you can learn that will immediately align you with Angel energy!  When you ask for help from your angels and allow yourself to be open for guidance in this manner, you leave room for endless possibilities and avoid limiting language and mindsets; allowing the angels to work their brand of magic to bring you what you need to create your intentions!
Are you ready to be open to the energy of the Angels?
Angels are energies here to help us during our experience on earth. They can assist and heal situations with their vibrations. Beings from the other dimensions such as angels are helping us awaken and raise our vibration! They are supporting and loving us while we are learning in our human form. In this beautiful workshop, you will learn how to get to know your personal guardian angel and how to call upon other angels for help and guidance!
With loving embrace, there is no energy like that of the angels, pure unconditional love. YOU are worthy of walking and talking with the angels … EVERYONE is worthy and able to connect with the angels, so I am so excited to have you join me so that I can show you how!
You will Learn and experience:
About Angels, Their role, purpose, and history
Releasing fear & negativity and trusting your intuition
Types of angels
Meditations and invocations to connect with your angels
Who are the Archangels and how to connect with them
Identifying your guardian angel
Feel the Angels and attune to their frequency
Guided visualization to meet your angel team!
This Angel workshop  allows you to develop a friendship and a journey of oneness through loving contact. I look forward to showing you how!
Contact me to schedule your private group or 1:1 workshop session!