Guided Mindful Breathing & Sound Healing!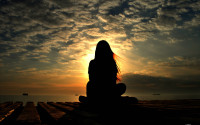 Find some much needed peace, dissolve the week's worries, and raise your personal vibration to it's highest level through guided meditation, mindful breathing, and sound healing…
This class is perfect for both seasoned meditators and those who are curious and have never meditated before or experiences Sound Healing!
It will allow you to relax your mind and return home energized and refreshed.
Sheri Certified, meditation Instructor/Reiki Master/Certified Sound Healer, will gently guide you through many breathing techniques that are guaranteed to let you experience peace and bliss!
This class combines many techniques to suite all types of people!
Sheri is also a Master Reiki Practitioner & Certified Sound Healer…she will give Reiki Energy healing and Sound Healing with crystal bowls to the group towards the end of the group session.
Join me even if you are a regular meditator! This class is wonderful for those that wish to refresh and enliven their practice and keep "the beginners mind". 
Led by Certified Meditation Instructor/Reiki Master Teacher/Om2Ohm Owner Sheri Mollica-Rathburn 
$15 per person. Drop-ins are welcome but please be on time! 
When
Saturday, July 01, 2017
11:30am – 12:30pm