Reiki Master Teacher Certification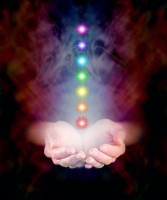 Becoming a Reiki Master Practitioner and teacher is a life-changing experience. It will give you a deeper experience of the extraordinary power of Reiki to heal and transform. The Reiki Master attunement and symbol strengthen your skill and effectiveness as a Reiki practitioner and enhance your ability to heal and promote balance on all levels.
All Om2Ohm Reiki workshops are a combination of the Usui Reiki tradition as well as Reiji-ho Reiki, in which one is guided directly with ones intuition and inner sensitivity to know where the client's energy field is out of balance and in need of Reiki. Through talks, exercises, small-group work, and discussion with Master Teacher Sheri Rathburn, you cross the threshold into Reiki mastery, as you:
Learn how to use the Usui Master symbols to deepen your own healing practice and initiate others into Reiki
Receive the final Reiki Master symbols and attunement to them
Receive the Reiki Divine Light Symbol and its attunement!
Expand your awareness of Reiki as a spiritual practice
Create a more loving connection with yourself, Source, and others.
Explore advanced energy healing practices that enhance Reiki healing
Hands on practice with fellow students during this workshop
This training and certification workshop also includes:
 Reiki Master Teacher level certificate
Be included in group practice sessions with other Om2Ohm Reiki students.
Membership to the private Om2Reiki Facebook group exclusively for Om2Ohm Reiki students
Essential Reiki Book and Master Reiki follow up materials
Eligibility to continue on to Reiki Master Teacher training.
This workshop is for those who want to train to be professional Reiki practitioners with the option of continuing on to Reiki Master Teachers, as well as those who want to simply deepen their healing practice and learn the ability to transmit the sacred gift of Reiki to others.
The proper dedication to practicing this ancient healing art is extremely important. This enables the student to fully observe and process the experience and feedback from both giving and receiving Reiki. All who successfully complete this training will receive their Reiki Master Teacher Certification. Certificates are awarded upon completion of this workshop. I still HIGHLY suggest that each student attend one or more of my group practices and supplemental teachings!
Previous training in Reiki Level II and Advanced Level Reiki is required. Students must have a foundational knowledge of the three second-degree Reiki symbols. If you have not received your Reiki I, II, and Advanced training through Om2Ohm, you may still take this class but must show proof of those certifications.
*** At this time, I am only offering Usui Reiki Certifications privately for 1:1. Contact me to schedule!
** Fee per person: $325