New Moon DNA Activation & Messages!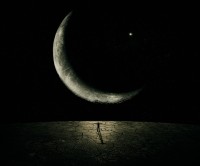 Join me at Om2Ohm for a very special night to integrate the amazing energy of the New Moon!
"The sun, moon, and stars are your teachers." – Yogi Bhajan
As Above, So Below!
The ancients long ago observed that we are impacted by the movement of the planets and stars. The earth, moon and sun is our cosmic trinity. The Sun represents the Soul — self-illuminated and radiant. The Moon represents the Mind — only able to reflect the light of the Soul and the Earth represents our finite existence.
The New Moon…
This New Moon brings eternal optimism, is irrepressible and can be quite the emotional roller-coaster. Some of you might feel as though you have reached your boiling point – intense necessity, impatient, perhaps even frustrated and ready to step into your warrior gear and take a stand for yourself and the direction you want to head in! In this forceful, combustible atmosphere, things might escalate very quickly but that's not necessarily a bad thing!
Did you know?
This New moon in October aligns with the two most fortunate stars used in astrology. Spica and Arcturus! They are said to foretell wealth, honor and success!
This New Moon is also opposite Uranus and it brings unexpected and exciting encounters or events which could shake up your world! Adapting to rapid change may require some extra effort and patience. Although initially challenging and you may resist, these changes may just offer a much better way forward for you!
You will experience:
Deep Soul Breathing & Sound Healing to Cleanse, Clear & Align!
DNA Activation to release what doesn't serve you and activate your highest vibration to manifest!
Anchoring Light Star Energy Infusion where Sheri will attune guests to the channeled energy of our closest star systems.
Sheri will give a channeled message for the group as it comes through from our Master Teachers and Guides that will be present!
Together we will aslo set the intention to use the potent energy of the New Moon to unify our consciousness to help establish peace everywhere on the planet and everywhere in the Universe!
Fee per person $20
Please plan to arrive 10 min early to get settled. We will start promptly so that we can fit all of this goodness in!
When
Tuesday, October 17, 2017
7:00pm – 8:30pm