Remote Sessions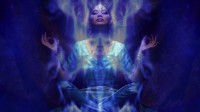 Remote energy work and clairvoyant guidance sessions are an amazing way to work with me from wherever you are, especially now as we continue to practice social distancing!
It helps to understand and embrace that everything and everyone is made of energy and we are all connected within this matrix of energy! So…. my tapping into that energy is very similar to tapping into the internet. With that, I am therefore also connected to you, your guides, master teachers, ancestors, and most importantly, your highest self!
During your actual session, I connect to your energy and your guides as I do energywork/Reiki for you. The clairvoyant guidance I receive for you comes through strongest for me as I'm doing that energy work! As the Reiki/energy/lightwork is happening for you, I'm channeling messages for you from your guides, angels, highest self. (I'm the energetic vessel and conduit for those messages to come through me so that I can deliver them to you. I'm a very visual person so I receive lots of images that give me a lot of information to share/translate for you.
For these remote sessions, I take time before your session to prepare and set up space for you just as I would if you were going to be here physically. I always sit to meditate before your session so that I am fully present and acting as a clear conduit and channel for all that you need.
All that YOU need to do is find a place, where you will not be disturbed, to settle down and relax! I believe that the best results are achieved when you are lying down but of course you may simply sit with eyes closed wherever you are most at ease. Remember, this session is for your rejuvenation and relaxation as well so please plan to be still and treat yourself to this loving and healing energy!
I am deeply connected with your energy and your guides at that time and I allow myself to be led as to what you need most. For instance, I choose and place different crystals for you, I might light a specific candle, do sound healing for you, or set up different things within the space so that I can channel the energy you need most for your session.
I personally connect best without FaceTime, zoom, phone call etc. during your session. This way my meditative flow isn't interrupted, there are absolutely no distractions, I connect more deeply, and I'm able to recall all that I'm meant to share with you. I then message with you and send you a series of audio recordings with your messages that I received! This is wonderful you because you can save those recorded messages to listen to them again and again. Each time that you listen, you WILL receive it in a new way and you always get from it exactly what you need to at that time! After I give you those audio messages, if there is still time in the session,  we can of course follow up via phone.
My sessions are very deep and extremely detailed so please plan on taking that time for yourself!
If you choose the Channeled Messages only option with me, I AM able to do your session no matter where you are or what you are doing! I will then send you a series of audio recordings that contain all of your channeled messages! Feel free to contact me with any questions!
My remote sessions are  priced as follows:
30 minutes Channeled Messages only: $44
60 minutes Channeled messages Only: $77
80 minutes Remote Reiki, Sound Healing & Channeled Messages: $88
90 minutes Remote Reiki, Sound Healing, & Channeled Messages $99
YES, I also do couples sessions remotely!!! Couples remote sessions (Spouses, siblings, friends etc) are $111 for 80 minutes,
I look forward to being with you for a remote session soon! 
You may email me at sheri@om2ohm.com or text/call me at (614)787-0583 to set up your appointment!
Purchase your session here…