Goddess Fair!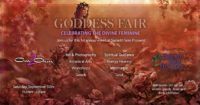 JOIN US FOR THE 1st ANNUAL GODDESS FAIR AT SACKETT FARM FLOWERS!
A celebration of the divine feminine honoring women in the healing, intuitive, visual, and botanical arts!
Come explore the divine beauty and awaken your inner goddess on the sacred land of Sackett Farm Flowers!
This body, mind and soul event  is here to raise the collective vibration with…
Free mini workshops and immersive experiences
Psychic readings with some of the most talented intuitives & mediums in Ohio (additional fee)
Unique artists and Craftspeople
Master healers in many modalities
Botanical Arts
Handcrafted Jewelry
Metaphysical & Spiritual gifts/supplies
Meditation
Reiki & Energy Work
Crystals
Herbs, oils, tinctures, incense
Divine feminine energy and connection with like-minded souls!

LET THE MAGIC BEGIN!    
AND SO IT IS!
STAY TUNED FOR A LIST AND SCHEDULE OF THE WORKSHOPS BEING OFFERED!
Event Cost is just $11 per vehicle!
When
Saturday, September 30, 2023
9/30/23 11:30am – 9/30/23 5:30pm