New Moon Goddess Gathering!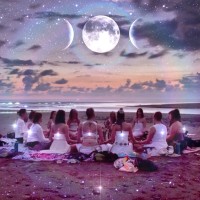 Tap into your inner Goddessas we come together to connect,share,support, transform, and empower!
I have created this sacred New Moon Goddess experience to take the deepest of magick the energy of the New Moon and layer it with soul shifting and transformational experiences!
Join other goddess sisters and see what incredible energy and manifestation awaits you…
The path to reclaiming your Goddess essence and your true Soul Calling contains your greatest bliss and your greatest challenges but on this path also contains the milestones of your evolution! 
 As women, we have a magical connection with the ancient rhythms of the moon, which is reflected in our bodies and life experience. As we discover, honor and embody our Lunar gifts, we rise into greater physical, emotional, and spiritual health together.
This sacred journey will be informational as well as experiential. It has been designed to re-connect you to your source of true power within and will help you create pathways to living your grandest potential as an empowered woman in this age of great transformation!
Reconnect with the Cycles of Nature
Cleanse and clear old stuck energy that isn't serving you
Deepen your Intuition & Awareness
Awakening and honoring the Womb energies.
Learn how to work with both the New Moon AND Full Moon energies to manifest all that you desire!
Who's your Goddess Guide? You will find out during this event!
 Other magnificence you will experience during this mini retreat:
Deeply cleansing and clearing breath work
Gentle flame in our Goddess Fire Bowl to ignite and release our worries as we stand on the earth outdoors
Earth Weaving ritual/ we mix together the earth/sand that each goddess will bring to share with a special blessing.
Full Moon infused water enhanced with pure essential Rose oil, crystals, flowers, sound healing, and Reiki to wash our hands and open our hand chakras for receiving universal healing energy!
We will have a sharing of what's happening with both the Full Moon astrologically and how to work with that energy.
Experience deep shifting and transformation through Guided meditation and DNA Activation…
Enjoy being completely relaxed and guided through a visualization meditation to release fear and doubt, awaken intuition and open and activate dormant DNA strands.
You participate in the activation, experiencing the energy of it and making it more powerful.
This deep meditation and 12 Strand DNA Activation utilizes color and sound. The vibrations of the sacred Solfeggio frequencies open the receptors of your cells, allowing the activation to more easily be imprinted on the DNA. Sound sets the vibration of the body at the correct rate to receive the activation at each level. The energy vibration of colors adds to the power of this activation.
Set your intentions through the power of the NEW Moon…
The full moon has an intense amount of energy and its important we harness it in some way. After the full moon, it wanes; it is symbolic of the closing of a chapter or reaching a goal. With the full moon, we release what doesn't serve and connect with our new intentions. The energy of the Full Moon amplfies the energy of your intentions! We will guide you through this process of releasing the old and bringing in the new!
Group Channeled Messages Through Sheri… 
Sit amongst the Enlightened Ones channeled by Sheri and experience their wisdom at this perfect time during the New Moon! Each New Moon, Sheri is gifted with the presence of a specific Goddess Spirit Guide & Master Teacher during meditation. During this Goddess meditation, she channels both the energy and messages from the ancient Goddess who chooses to come through. Sheri then shares this message with the group along with any other messages from Enlightened Goddesses that wish to come through at that time! These messages are always what is needed most at the time of Goddess Circle and for all who were pulled to be present!
This glorious event will be filled with light, empowerment, and intensely beautiful transformation…Are you ready???
$44 per person
** Wine, water, tea, and delicious snacks will be provided!
**This event will be held at my home studio in the Arena District in downtown Columbus! The address will be given upon your purchase/reservation!
When
Friday, July 14, 2023
7/14/23 7:00pm – 7/14/23 9:30pm