Full Moon Goddess Circle!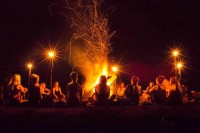 Join other beautiful like-minded Goddess souls just like you to co-create with the energy of this Full Harvest Moon Celebration!
The natural rhythms of the earth & auspicious days in the cosmic cycle are excellent times to cultivate new or deepen & renew our manifestation rituals!
This will be a special Full Moon to be sure! This Full "Harvest" Moon is in the gentle water sign of Pisces. Unlike other Full Moons, this one is specifically related to Autumn. This is a time where everything is illuminated in order to gather the harvest. The Full Moon sheds its brilliant light, making everything easy to see and gather!
The Moon loves being in a water sign – it feels as if it has "come home" in a sense, and certainly, we can all feel a sense of nourishing and tenderness over this sensitive Full Moon. Emotions may be quite big, as water signs tend to already carry within them greater emotional attunement than any other element, and it will be important for us to be with the feelings that come up in a gentle, compassionate and kind way. It's equally important that we don't react, allow overwhelm to drown us, or try and run away, or numb our emotions. If we do, we will be obscuring the most powerful tool we have – our intuition.We are also asked to find healing and balance here. We are ready to release what we need to and this Full Moons offers us the opportunity to do just that. In that release, the door to the goodness that awaits you is open!
This Full Harvest Moon evening will be filled with magic, releasing old stagnant energy and that which no longer serves us and manifesting all that we deserve as the Goddesses that we are!
We will share in rituals to honor the elements and activate our intentions!
Cleansing and clearing breathwork ~ Using the element of air to release, heal, & breath in new light!
Goddess Fire Bowl Ceremony~ Fire is a catalyst for change and transformation and allows for purification. It is associated with willpower, courage and strength. Fire can represent all that we need to release as well as our spark of imagination, the burning of passion and desire which can be generated within you and inspire your actions.
Full Moon infused water enhanced with pure essential Rose oil, crystals, flowers, sound healing, and Reiki to wash our hands and open our hand chakras for receiving universal healing energy!
Earthing and Earth Weaving~ Earth is the process of absorbing earths free flowing electrons from its surface through the souls of our feet! This is about grounding and a deeper connection with our roots! The Earth Weaving ritual is where each Goddess will bring a bit of earth or sand from a place of their choosing (the higher vibe the better of course!. We will all then mix this earth together to symbolize the sharing and support  of our magical sisterhood connection! Each Goddess will take home with her a portion of this weaved earth to keep this connection!
Other beautiful and transformational offerings that our Goddess Circle will experience:
Deep shifting and transformation through Guided meditation and DNA Activation with Sheri…Enjoy being completely relaxed and guided through a visualization meditation to release fear and doubt, awaken intuition and open and activate dormant DNA strands.
You participate in the activation, experiencing the energy of it and making it more powerful.This deep meditation and 12 Strand DNA Activation utilizes color and sound. The vibrations of the sacred Solfeggio frequencies open the receptors of your cells, allowing the activation to more easily be imprinted on the DNA. Sound sets the vibration of the body at the correct rate to receive the activation at each level. The energy vibration of colors adds to the power of this activation.
Set your intentions through the power of the Full Moon…The full moon has an intense amount of energy and its important we harness it in some way. After the full moon, it wanes; it is symbolic of the closing of a chapter or reaching a goal. With the full moon, we release what doesn't serve and connect with our new intentions. The energy of the Full Moon amplfies the energy of your intentions!I will guide you through this process of releasing the old and bringing in the new!
The Om Wishing tree… A beautiful tree sculpture born of a gorgeous boxwood tree resides at Om2Ohm and invites you to place a wish in written form upon her at every Goddess Circle! Goddesses may also bring sacred objects or crystals to be charged under the loving energy of this wishing tree! For this Summer Solstice, each of us will also be tying a ribbon of any color onto the wishing tree. The act of doing this secures the wishing intention as it is place securely on the tree!
This will be an evening  filled with extreme light, empowerment, and transformation so don't miss it!
Wine, non-alcoholic beverages, and delicious light fare will be provided. If you would like to bring something to share, that would be incredible and appreciated! ( Not required though!)
$30 per person
I HAVE JUST 28 SPOTS AVAILABLE and this very special event WILL sell out early! Every month, I unfortunately have to turn some Goddesses away because they wait until the last minute! Be sure to register today!


When
Friday, September 13, 2019
8/11/19 7:00pm – 8/11/19 9:30pm