Full Moon Goddess Circle!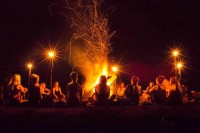 Join me at my home in Worthington November 30th for Full Moon Goddess Circle!
This Goddess Moon Circle will take place after the actual Full Moon due to the Thanksgiving holiday! I love you all so much but after having 20 people in my home for Thanksgiving dinner the day before, I will need to recuperate a bit! I know you all understand!!! Each Moon Phase has incredible magic and power so rest assured you will receive exactly what you need during this moon circle! We will be incorporating the Waxing Gibbous Moon energy as well as the residual Full Moon energy! Epic and powerful stuff!
Special additions to this month's sacred circle of activities:
Potluck and wine! I will be providing some tasty treats, wine and guests are invited to bring soemthing to share as well! We will share in this goodness throughout our Full Moon rituals and activities.
Outdoor Fire dance brought to you by our beautiful Goddess sister Leah Gray!
We will be creating herbs of Mars in a jar! Please bring a small jar (like jam jar…not a giant jug! lol)
I will guide you through making your own protection salts mixed with herbs associated with Mars as well as cooling herbs to keep it all "illuminated"! Get it? Full Moon…Illuminated, her hee!
AND of course, as always, our usual Full Moon Rituals and activities will still take place:
The full moon beckons us once a month to slow down and reflect on our current life journey. This is the perfect time to do some deep soul work. Come join us for a night of deep connection, manifesting and healing!
Cleanse your energy, release that which does not serve you. Invite your guides, angels, masters, or teachers to be at your side. Create intentions, connect with your inner Goddess, and flow with the Full Moon energy of May AND the Waning Moon energy we are moving into!
Embrace the power of the Moon and ignite your authentic soul song with other beautiful women just like you…
Enjoy being a part of this sacred monthly full moon circle! We will start the evening by releasing old stagnant energy and that which no longer serves us through our Goddess fire, water, and air ritual!
Cleansing and clearing breathwork
Goddess Fire Bowl Ceremony to ignite and release our worries as we stand on the earth outdoors
Full Moon infused water enhanced with pure essential Rose oil, crystals, flowers, sound healing, and Reiki to wash our hands and open our hand chakras for receiving universal healing energy!
We will have a sharing of what's happening with the Moon astrologically and what energy it's bringing in.
Channeled Goddess Messages through Sheri…
Each month, Sheri is gifted with the presence of a specific Goddess Spirit Guide & Master Teacher during meditation. During this Goddess meditation, she channels both the energy and messages from the ancient Goddess who chooses to come through. Sheri then shares this message with the group along with any other messages from Enlightened Goddesses that wish to come through at that time! These messages are always what is needed most at the time of Goddess Circle and for all who were pulled to be present!
Experience deep shifting and transformation through Guided meditation and DNA Activation with Sheri Mollica Rathburn…
Enjoy being completely relaxed and guided through a visualization meditation to release fear and doubt, awaken intuition and open and activate dormant DNA strands.
This deep meditation and 12 Strand DNA Activation utilizes color and sound. The vibrations of the sacred Solfeggio frequencies open the receptors of your cells, allowing the activation to more easily be imprinted on the DNA. Sound sets the vibration of the body at the correct rate to receive the activation at each level. The energy vibration of colors adds to the power of this activation.
Set your intentions through the power of the full moon…
The full moon has an intense amount of energy and its important we harness it in some way. After the full moon, it wanes; it is symbolic of the closing of a chapter or reaching a goal. With the full moon, we release what doesn't serve and connect with our new intentions. The energy of the Full Moon amplfies the energy of your intentions!
I will guide you through this process of releasing the old and bringing in the new!
This special Full Moon Goddess Circle and Celebration is Registration only with NO Exceptions as it is being held at my private residence! My home is conveniently located in Worthington off of 23 with very easy access and ample parking!
This will be an evening filled with extreme light, empowerment, and transformation so don't miss it! $30 per person
I have just 28 spots available and they WILL SELL OUT quickly for this special event! Be sure to register today!!!!
This event is for women only and for ages 18 and up only. Thank you! 
When
Friday, November 30, 2018
7:00pm – 9:45pm